If you are wondering whether you should visit Granada or Seville in the southern Spain province of Andalusia, I have put together some considerations to help you decide.
Seville and Granada feature on our ultimate 10-day Spain itinerary for first-timers: they are two of our favorite destinations in Spain.
Both Seville and Granada are iconic Andalusian destinations well worth visiting. Each city has a wealth of attractions, including UNESCO World Heritage Sites, and lively flamenco and tapas scenes.
So trying to decide if you'll visit Seville or Granada is definitely not easy.
Choose Seville if:
You want the perfect base in Andalusia from which to explore the province
Seville is extremely well-connected to the rest of the province of Andalusia, plus the rest of Spain and beyond. So if you want a city as your base while you explore, then Seville wins, hands down.
After you have exhausted all the must-see sights in Seville, you can take day trips from Seville to the historic white cities of Cadiz and Jerez de la Frontera, visit the Doñana National Park, or tour some of the white villages of Andalusia.
You can even visit Granada or Cordoba for the day from Seville.
Some links on this page may be affiliate links. If you click an affiliate link and make a purchase, we may receive a small commission, at no extra cost to you. For more details, refer to our disclosure.
Seville makes for a better base especially if you do not have a car or don't want to drive. You can visit many places from Seville using public transport, and there is an excellent selection of guided day trips as well.
You want the quintessential Andalusian experience
If you've been dreaming about all things Andalusia, and you want to experience it all in one place, pick Seville.
Seville has some of everything you associate with the Southern Spain province: great architecture and monuments, a walkable old Jewish quarter, squares lined with citrus trees, patios lush with greenery, and great tapas and flamenco.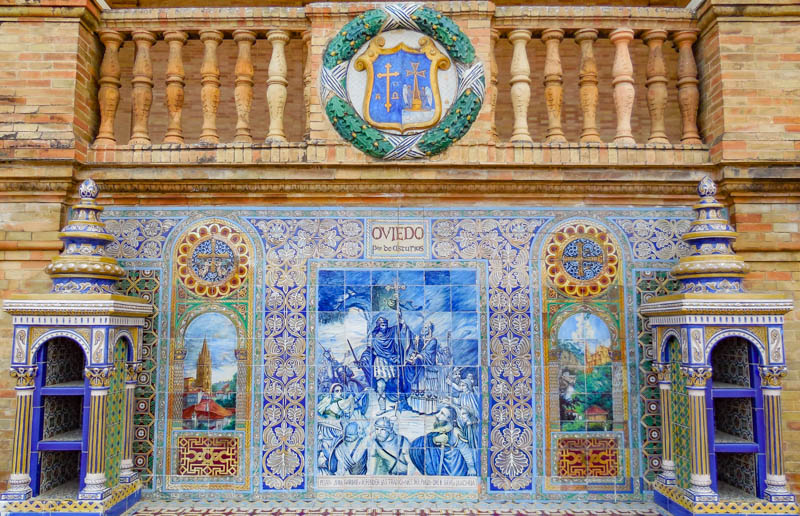 The Royal Alcazar of Seville is up there as one of the top sights in the province, as are the Seville Cathedral, and the bell tower La Giralda.
Consider this well-reviewed combined guided tour for an exponentially enhanced experience. We learned a lot about these UNESCO World Heritage sites on the tour and it was incredibly enjoyable.
Barrio Santa Cruz is great for strolling, with its whitewashed houses and pretty patios. Here is where you will find authentic flamenco in intimate settings such as the highly rated Casa de la Memoria. We loved the performance we saw at the Flamenco Museum in Seville.
You'll find numerous authentic tapas bars in Barrio Santa Cruz as well. A food tour is a great way to get introduced to the best places to eat!
You can also venture across the river to the traditional ambience of Triana, where you can shop for ceramics or catch a flamenco show at Triana Tablao.
You Want a Diversity of Sights and Experiences
Apart from the must-visit Alcazar, Seville Cathedral, and the Plaza of Spain, Seville has a plethora of beautiful palaces to explore, as well as a number of well-regarded museums.
So if you have the time, Seville can keep you engaged for several days…we spent 3 days in Seville on our first visit, and found we could have used still more time here.
You can cruise the Guadalquivir River, or go kayaking on the river, climb to the top of the Torre del Oro for panoramic views, and gawk at the Metropol Parasol, the Mushrooms of Seville.
If you are visiting with kids or you love theme parks, visit Isla Magica for a fun day of rides and thrills.
Seville's Calle Mateos Gago is a mecca for foodies. Head to this street if a tapas crawl is on your Andalusia wish list. Seville is also known for its vibrant nightlife, with more bars than you can count.
And if you are looking to attend a flamenco performance, Seville has numerous topnotch venues.
You don't want to climb up and down hills
Seville's major attractions are within walking distance of one another and although you will be racking up steps if you walk everywhere, Seville is flat, which makes walking easier.
Granada, on the other hand, is very hilly, and its major attractions involve going up and down hills. While you can take the local bus, you can't wander the historic neighborhoods without being okay with hilly terrain.
You have more time to spend in your chosen city
If you have three days or more to spend in Andalusia and want to spend all your time in one city for an immersive slow-travel experience, pick Seville.
There are a multitude of excellent things to see and do in Seville, from museums to churches, neighborhoods, and shopping, and you'll not want for choices even on a longer visit.
Seville's tapas scene is also splendid, with so many great places to try that you'll want to stay longer just to eat. Eslava, Castizo, El Puma Bar, Tradevo Centro, and Bodeguita Romero are some places you'll want to visit!
You Must Visit in the Summer
If at all possible, don't visit either Seville or Granada in the summer, because summers can get very hot in both cities (Granada may be a couple of degrees cooler but generally not by much).
But if summer is the only time you can visit, we would prefer Seville over Granada, because there are many more indoor sightseeing options in Seville.
If you enjoy historical palaces, churches, and museums, you could spend most of your time indoors in Seville.
In Granada, on the other hand, the major sights: the Alhambra, the Generalife Gardens, and the Albayzin all require you to spend a lot of time walking around outdoors.
…Or you want to visit in the winter
Seville has a milder winter than many other cities in Europe. Even in the depths of winter, daytime temperatures are in the low 60s, so you can explore outdoors in relative comfort.
Plus, major attractions in Seville, such as the Alcazar and the Seville Cathedral, will be less crowded, making it a much more pleasant experience to visit them.
And you may be able to score great prices on accommodations as well. On one occasion when we visited Seville in winter, we stayed at the Hotel Alfonso XIII, a dreamy luxury hotel that was fabulous.
If you do encounter rain, there are more indoor options in Seville, where you can stay dry and warm.
Granada has cooler winter temperatures, and feels chillier because of the presence of the Sierra Nevada mountains close by. So if sightseeing is your reason for visiting, pick Seville over Granada in the winter.
Choose Granada if:
Visiting the Alhambra is a bucket list item for you
There is no doubt that the Alhambra of Granada is bucket list material.
Although I thought Seville's Alcazar was gorgeous, I had read more about the Alhambra before I visited Andalusia. In fact, it was reading about the Alhambra that made me plan our trip to the region!
So if visiting the Alhambra is on your bucket list, then choose Granada. You will be awed by the beauty of the palace-fortress and the adjoining Generalife Gardens, both of which feature on the Granada UNESCO World Heritage designation.
Tickets MUST be bought well in advance of your visit. If you do not have Alhambra tickets, or a booked tour, visiting Granada is not worth the effort.
Make sure you book skip the line entry in advance if you plan to visit on your own. The audio guide is very useful if you plan to tour the vast complex independently.
A guided tour of the Alhambra is well worth the splurge. You can stay back after the tour to wander around on your own (except for the Nasrid Palaces, which can be entered only during the reserved time slot).
You want to experience the Moorish ambience
There is a decided Moorish feel to Granada that we did not find in Seville. The vibe is slower, less cosmopolitan, and you will still feel the ambience of a time when sultans ruled the city.
Granada's market, the Alcaicería, has the feel of an Eastern bazaar. In times past, the market traded in precious goods like spices and silk. These days it is sadly a tourist trap, but still a fun place to visit if you want to haggle and buy some scarves or trinkets.
The spice shops near the Granada Cathedral are a must-visit, to enjoy the colors and the aromas. And if you are in the market for Spanish saffron, look for it here.
Granada's two historic neighborhoods, the hilly Albayzín and the equally hilly Sacromonte, also recall the city's Arabic heritage. Their narrow winding alleys, whitewashed houses, pretty patios, and small tea shops instantly transport you back in time.
You want to see a flamenco show in a cave
In the Sacromonte district of Granada, you can tour cave dwellings, but for even more fun, opt for a zambra performance in a cave. Zambra is the local version of flamenco. The strains of the accompanying guitar are mesmerizing!
You want to enjoy free tapas with your drinks
Granada has a tradition of free tapas with drinks, and most bars in the city follow the tradition. The bar will either bring you a tapa of their choice, or, in some cases, you may be able to pick from the available offerings.
With lots of great tapas bars from which to choose, you can enjoy a variety of small plates by doing a tapas crawl each evening in place of a sit down dinner. From seafood to fried delicacies and eggplant fries drizzled with honey, enjoy the best the city has to offer!
You want to day trip to the Sierra Nevada
Granada is located close to the beautiful Sierra Nevada mountains, so it's the perfect place from which to do a day trip into the Sierra Nevada or the Alpujarras.
If you have a car, you can drive the A-395, one of Europe's highest roads to get to the ski resort, the mountain villages, and hiking and nature trails.
If you prefer not to drive, you can do a guided private excursion. Consider this well-reviewed 4X4 private tour that takes you to various breathtaking viewpoints high in the mountains followed by a tour of Sierra de Huétor Natural Park.
Seville or Granada?
Deciding whether to visit Granada or Seville can be really difficult, because both cities have so much to offer. If you can spare the time, visit both!
If you have even three days in Andalusia, base yourself in Seville, and do a day trip to Granada, either on your own, or as part of a guided tour to see the Alhambra and walk through the Albayzin district.
If you have to choose, pick Seville for a more diverse array of sights and experiences, ease of walking in the historical core, and access to a number of great day trips to explore more of the region.
Pick Granada if visiting the Alhambra is a must, if you want to explore the Sierra Nevada, and you aren't fazed by walking up and down hills.
Whether you choose Granada or Seville, or both, you will have a wonderful time savoring the magic of Andalusia.
More Information for Your Andalusia Trip
Ronda: How to Spend One Perfect Day in Ronda
Seville: The Complete Guide to Visiting Seville in Winter
Cordoba: What to Do in Cordoba, Spain
Andalusia Itinerary: The Perfect 2-Week Andalusia Itinerary
Malaga: The Best Things to Do in Malaga
Day Trips: The Best Day Trips from Malaga
Casares: Things to Do in Casares, Spain!
Seville: One Day in Seville Itinerary
Andalusia: The 5 Most Iconic Sights in Andalusia to Visit
More Information on Spain
The Best Places to Visit in Spain
The Most Beautiful White Villages in Spain
The Best Day Trips from Barcelona
The Best Day Trips from Madrid
Day Trip to Girona from Barcelona


Did you find this article informative? Pin it for later reference!