Considering some day trips from Florence, Italy? If you are planning a trip to the iconic capital of Tuscany, be sure to add in a few days to explore outside the city.
Florence, the Cradle of the Renaissance, is a stunning destination in its own right.
But its fortuitous location also makes it the perfect base from which to explore: not just the rest of Tuscany, but also visit-worthy destinations in other nearby regions of Italy as well.
Well-connected by road and rail to other parts of the country, Florence allows you to day trip to other towns and cities during the day, returning to enjoy its unique ambience (and fabulous food and gelato!) in the evenings.
We've rounded up the best day trips from Florence in this article, to help you zoom in on the perfect choices for your itinerary.
Some of the destinations we've included are cities where you could spend weeks or months (as you can in Florence!), but you can still enjoy the highlights on day trips if you are on a short visit to Italy.
Day Trips from Florence Within Tuscany
Val d'Orcia Day Trip from Florence
Want to visit the part of Tuscany you see on picture postcards?
Rolling hills, marching rows of cypresses, and that quintessential pastoral beauty that says "Tuscany!" loud and clear?
Then you will want to do a day trip from Florence to the Val d'Orcia.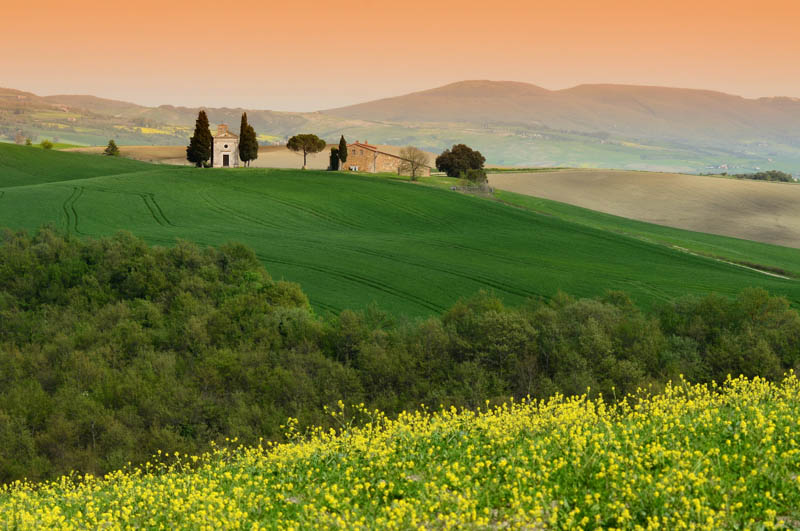 Some links on this page may be affiliate links. If you click an affiliate link and make a purchase, we may receive a small commission, at no extra cost to you. For more details, refer to our disclosure.
The Val'd Orcia is made up of many little towns, so the best way to explore it on your own is to rent a car for the day and drive. We have a stop-by-stop one day itinerary for Val d' Orcia that takes you to some of the most picturesque locations in the valley.
Visit the ideal Renaissance town of Pienza, with its beautiful architecture and spectacular views. It's one of Italy's most beautiful towns.
Sample the famous Brunello wine at Montalcino: it is considered one of Italy's top wines. Or the Vino Nobile in nearby Montepulciano, also ranked among Italy's best wines.
Stop for lunch at any one of these towns. Try the local pici pasta garnished with pecorino from Pienza.
Browse the local stores for artisanal food products to bring home with you, and enjoy a scoop (or three!) of gelato as you stroll, savoring the sensational views of the Tuscan countryside from hilltop streets.
Be sure to stop at the two famous photo spots in the area, the Cypesses of San Quirico d' Orcia, and the tiny Vitaleta Chapel.
Get your history and culture on with visits to some of the famous abbeys dotted about the region. You may even be able to hear the monks at Sant'Antimo do Gregorian chants.
Getting to the Val d' Orcia from Florence
Other than touring independently by car, you can take the bus to one town, such as Montepulciano, for the day, or hire a private driver.
This highly-rated full-day tour of the Orcia Valley takes you to Montalcino, Pienza, and Montepulciano, along with cheese and wine tastings as you stop at select venues. You'll also see the Vitaleta Chapel and drive through the super scenic countryside.
Book this tour now!
Contributed by us
Day Trip from Florence to Pisa
A wonderful day trip from Florence is to the city of Pisa. Pisa is a beautiful Tuscan city, with many sights, lots of restaurants, and a great atmosphere.
The city, built on the Arno River like the city of Florence, is of course known for the leaning tower of Pisa, the bell tower of the Pisa Cathedral.
The angled tower is a very popular place for photography!
What's also great is that you can get inside the tower and climb up to the top for fabulous views.
Other must-visit sights in the complex include the Duomo (officially the Cathedral of Santa Maria Assunta), and the Baptistery of San Giovanni. Then walk to the Piazza dei Cavalieri to admire the beautiful architecture and to relax at a cafe and enjoy people watching.
Other than these sights, just walking through the city center is a fun activity, as you see beautiful buildings everywhere. Walking by the Arno River is fun as well.
If you are looking for a great place for lunch in Pisa, then you should go to Gusto Giusto. They have delicious sandwiches and pizza!
Getting to Pisa from Florence
It is easy to get to Pisa from Florence. The most convenient way is to travel by train. There is a direct connection and the journey takes under one hour.
If you prefer a guided tour, consider this popular tour that combines Pisa with San Gimignano and Siena for a wonderful full day out from Florence. See the highlights of each town and enjoy the scenic Tuscan countryside!
Book this tour now!
Contributed by Dymphe from Dym Abroad
Day Trip from Florence to Siena
The city of Siena, capital of the region by the same name, is one of the best day trips from Florence you can do. The center of the city is a pedestrian-only zone and a UNESCO World Heritage site.
If you've spent much time in Florence, you'll be aware that Italy is known for its Duomos, and Siena doesn't disappoint. The Duomo (officially called the Cathedral of Santa Maria Assunta) is a beautifully designed building both inside and out.
Whilst inside, search out the Piccolomini Library, which has some incredible frescoes on the walls and ceiling. The floor of the cathedral has beautiful frescoes as well, depicting various scenes from the Bible.
Near the Duomo is the Baptistery of St. John. The baptistery is part of the cathedral complex but is a separate building. Again, it's notable for the frescoes throughout the building and is worth a visit.
Buy a combination ticket for all parts of the Siena Duomo complex, including the Facciatone viewpoint for great views over the rooftops of the town.
Or book this walking tour, which includes a guided tour of the Duomo di Siena, for an excellent overview of the historic center.
After viewing the Duomo, head back down towards Piazza del Campo, a huge medieval square in the middle of the city. The shell-shaped piazza is one of the largest in Europe, and is used for the annual horse race.
On the square, you can see the Palazzo Pubblico, the town hall, with its recognizable clock tower. It is also home to the city's infamous fountain, the Fountain of Gaia, and is surrounded by shops and cafes, perfect for people watching.
Getting to Siena from Tuscany
The best way to visit Siena on a day trip is via bus, which takes a little over an hour each way.
You can also visit Siena on a guided tour. This well-reviewed guided tour combines Siena with San Gimignano and Pisa, for a full-day excursion from Florence. You'll stop at a winery in Chianti for lunch with wine tasting.
Book this tour now!
Contributed by Kieren from Got My Backpack
Day Trip to Lucca from Florence
Lucca is one of the most underrated towns in Tuscany, with plenty of charm and local feel.
Among the top things to do in Lucca is to go for a walk on the city wall either at the beginning of your day trip or at the end. The wall is a popular spot for walking and cycling among the locals.
Lucca Cathedral is situated on an anonymous square not far from the city gate by the train station. The columns are especially noteworthy as they are all different.
Legend says it is because of a competition among architects to make the columns for the cathedral. The inhabitants could not decide which one to pick, and thus decided to use all of the columns that were entered in the competition.
For lunch, make sure you head to the unique square of Piazza dell Anfiteatro, built on top of an old amphitheater. The houses form the original shape of the structure that now is mostly underground, though some of the arches are original.
Today, the square is packed with restaurants to enjoy pizza and Tuscan wine. Other points of interest are the Basilica of San Fernando, San Michele in Foro, and Torre delle Ore.
Getting to Lucca from Florence
It is easy to get to Lucca by train from Florence Santa Maria Novella, with one to two departures every hour. The journey takes between 1 hour and 20 minutes and 2 hours.
By bus, it takes more or less 2 hours from the same station with several departures a day.
A guided tour is another way to see Lucca on a day trip. This well-reviewed full-day tour from Florence combines Lucca with Pisa. You'll see the highlights in both towns on walking tours.
Book this tour now!
Contributed by Linn from Brainy Backpackers
Day Trip from Florence to Volterra
Volterra is an adorable hilltop town in Tuscany, just a short drive from Florence, where Etruscan, ancient Roman, Medieval, and Renaissance heritage sites co-exist in complete harmony.
In the 9th – 3rd century BC, Volterra was one of the 12 cities of the Etruscan League, a somewhat mystic civilization that completely disappeared once it landed in the hands of the Roman Empire. To learn more about the Etruscans, visit the Guarnacci Etruscan Museum and the Etruscan Acropolis.
Another attraction worth visiting in Volterra is the Roman Theater. It is one of the largest and best-preserved Roman theaters in Italy.
The historical heart of Volterra is a fine example of medieval architecture. Stroll around and enjoy the impressive medieval palazzi: Palazzo dei Priori, the oldest town hall in Tuscany, Palazzo Pretorio with the Torre del Porcellino (the Tower of the Piglet), and Palazzo Incontri.
An interesting museum to visit in Volterra is the Ecomuseum of Alabaster. Voterra is the center of alabaster production in Europe. There are a few shops in the town where you can buy handcrafted alabaster items as souvenirs, like lovely jewelry or a beautiful vase.
For the ultimate Tuscan experience, stop for lunch at VolaterrA on Via Giusto Turazza 5 (they have also a small shop with original Tuscan products) or have a pizza at Il Poggio on Via Porta all´Arco 7.
Getting to Volterra from Florence
Volterra is the perfect destination for a day trip from Florence. The best way to travel to Volterra is by car, although public transportation is an option. It takes about 2.5 hours to get from Florence to Volterra by bus, with a change in Colle val d'Elsa.
Prefer a guided tour? This highly-rated tour from Florence combines San Gimignano and Volterra for a full-day trip to two historic Tuscan hill towns. The tour includes wine tastings en route and a light lunch art a winery.
Book this tour now!
Contributed by Daniela from Ipanema Travels
Day Trip to the Chianti Region from Florence
The Chianti Classico wine region is just a 40-minute drive from the Florence city center, and offers a beautiful getaway into the Italian countryside. There are copious wineries to visit, hilltop towns to explore, and views for miles.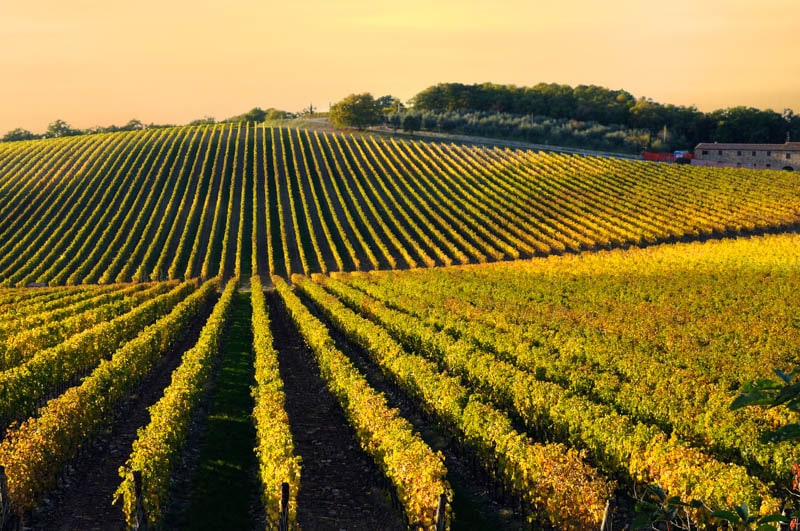 The Chianti Classico wine region is known for its delicious red wine, which is marked by a black rooster on the label. It is absolutely essential to try some during your visit.
One of the first towns you'll reach is Greve in Chianti, which has two great wineries in close proximity to each other: Castello Vicchiomaggio and Castello di Verrazzano.
If time allows, do a winery tour to understand all that goes into making Chianti Classico wine. Both tours and tastings are offered at the wineries mentioned above, as well as many others throughout the region.
As the Chianti Classico region is not very big, it is possible to do an entire road trip around the area in a day. Be sure to take in the views of rolling hills covered in vineyards, which are occasionally topped with a village or stately mansion.
Before leaving Chianti Classico, grab some food in one of the villages and watch the sunset over the hills while sipping a glass of wine. La Cantina in Greve in Chianti serves a large selection of delicious pizza, which is best enjoyed on their patio.
Cafè Bijoù in the village of Barberino val d'Elsa is also an excellent place to try some antipasto and enjoy sweeping views from their terrace.
Getting to the Chianti Region from Florence
To visit the Chianti Classico wine region, it is easiest to rent a car to get around the small rural villages.
If you do not want to rent a car or plan your own itinerary, there are full day winery and food tours that leave from Florence. Just note that this will likely be a pricier option.
This popular Chianti wine tasting tour from Florence includes stops in Greve and Castellina, and tastings at two select wineries in the region. You'll learn about the wine making process and enjoy the Tuscan wine country scenery.
Book this tour now!
This popular and highly-rated full-day tour to the Chianti region, Siena, and San Gimignano is an excellent option if your time is limited. The small group tour is limited to a maximum of 12 participants. You'll enjoy lunch, wine tasting, and a pasta-making demo in the Chianti portion of the tour.
Book this tour now!
Contributed by Theresa from Fueled By Wanderlust
Day Trip from Florence to Fiesole
Fiesole is a lovely hilltop town located only about six miles from Florence, with scenic views. Fiesole is known for its museums and outstanding villas, which make it the richest neighborhood in Florence.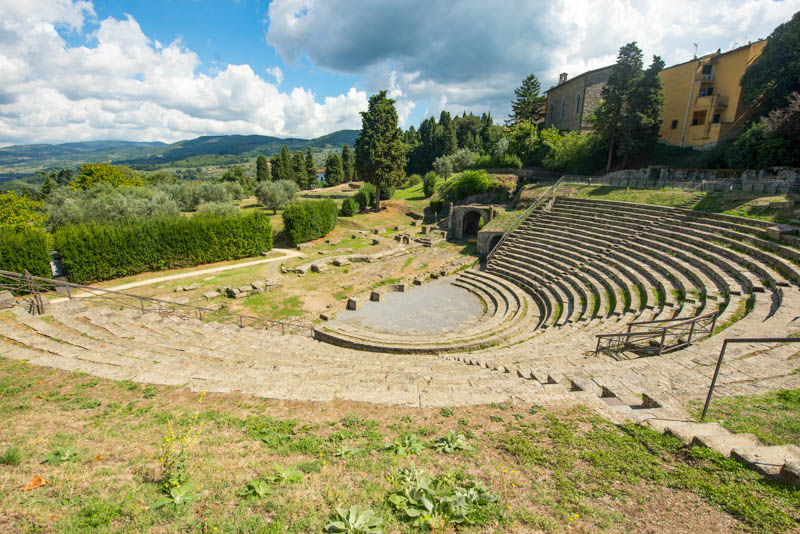 Piazza Mino is the main square in Fiesole. On one side, you will see the town hall, from the 14th century, a pretty stone building covered in flowers during the summer. The square has numerous cafes and restaurants along its periphery, and is a great place to sit for a bit and people watch.
The Cattedrale di San Romolo, Fiesole's cathedral, dates from the 11th century, but has been restored several times since then. Its tall bell tower is visible from afar. The interior of the cathedral features many fine frescoes.
Fiesole's archaeological site has an ancient Roman theater and baths, a museum, and defensive Etruscan walls. Encircled by cypress trees, it is a very attractive and relaxing area. The Civic Museum houses Greek and Roman artifacts.
Art lovers will want to visit the Bandini museum, which houses an impressive art collection from the early Renaissance, with works by masters like Della Robbia and Taddeo Gaddi. Villa Peyron is a museum with a lovely garden, one of the most popular attractions in Fiesole.
For lunch in Fiesole, Osteria Vianandro is a good budget choice and La Reggia degli Etruschi the most authentic choice, with a fantastic terrace view.
Getting to Fiesole from Florence
You can easily reach Fiesole by bus (bus number 7 from the train station in Firenze or from Piazza San Marco), by scooter or car, or on a guided tour.
This highly-rated 2-hour e-bike tour from Florence has you exploring back roads around the city, past olive groves and cypresses, on your way to Fiesole for magnificent views. You'll visit a Tuscan farm en route and stop for gelato.
Book this tour now!
Contributed by Gabi from Under Flowery Sky
Day Trip to San Gimignano from Florence
Situated less than eight miles from Florence and Siena, San Gimignano, one of Tuscany's most beautiful hilltop towns, is known for its stunning skyline of 14th-century medieval towers and its classic Tuscan charm. Unfortunately, it does get busy, but there are still many tranquil places to discover.
The most important building is its gorgeous cathedral. When you step inside, the two prevailing colors are blue and gold. The walls are lined with incredible 14th-century frescoes and panels depicting Old Testament stories on one side and ones from the New Testament on the other. The church of St. Agostino is also worth visiting.
The tallest tower in the town is Torre Grosse. There are 218 steps to the top and the effort is handsomely rewarded with great panoramic views. Close by stands the Piazza Comunale (Town Hall), which has an interesting exhibition of historical events.
The San Gimignano 1300 exhibition has a scale model of what the town looked like 700 years ago. The residents of the town are very artistic and you will find workshops with beautiful ceramics and landscape paintings.
There are museums and galleries to visit, including the Herbarium, a reconstruction of an ancient pharmacy. Lunch in style in the beautiful courtyard of Ristorante La Mandragola or enjoy tasty sandwiches made by the Bertelli family.
Before you leave, grab a delicious award-winning ice cream from the famous Gelateria Dondoli.
Getting to San Gimignano from Florence
San Gimignano can be reached by train from Florence to Poggibonsi, and then a bus to the town.
Prefer a guided tour? This well-reviewed tour combines Pisa, Siena, and San Gimignano for an efficient way to visit the most popular Tuscan hill town day trip destinations from Florence, and includes lunch with wine tastings.
Book this tour now!
Contributed by Chrysoula from Travel Passionate
Day Trip to Cortona from Florence
The beautiful hilltop town of Cortona was put on the map with the release of Under the Tuscan Sun, first the book by Francis Mayes, and then the movie.
This stone-clad town has a rich history dating back to 400-600 BC. But it was in the 13th century that the town started to flourish.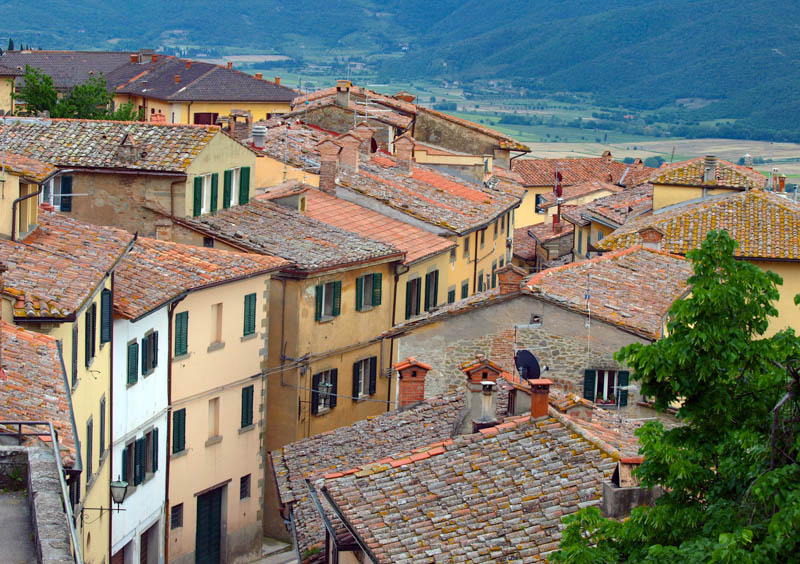 The heart of this charming town is the main square, Piazza della Repubblica. It features many historical buildings from the 13th century. A well-preserved town hall, clock tower and former palace are just some of the significant landmarks you will find here.
It is a lively piazza where you will find the locals constantly coming and going, catching up with one another and stopping by their favorite shops and cafés.
There is so much to see and do in Cortona, from its many museums to its countless churches. It's a town full of life.
So, grab a gelato from the delicious Gelateria Snoopy and simply get lost in Cortona's endless narrow alleyways (or vicoli as the Italians call them) and take in those epic Tuscan countryside views.
Getting to Cortona from Florence
Cortona sits in the eastern part of Tuscany, in the Arezzo region, very close to the border of the Umbria region. It is about an hour's drive from Florence or 90 minutes by train.
Or consider this full-day guided tour to Cortona and Assisi from Florence! The well-reviewed tour includes admission to renowned churches and the chance to walk around Cortona on your own.
Book this tour now!
Contributed by Renee from Dream Plan Experience
Day Trip from Florence to Viareggio
If you are looking for some quiet beach time during your visit to Florence, Viareggio, on the Tuscany coast, is within easy day trip distance of the city. A glamorous resort at one time, Viareggio was known as the Pearl of the Tyrhennian Sea, with celebrities enjoying a relaxed holiday here by the sea.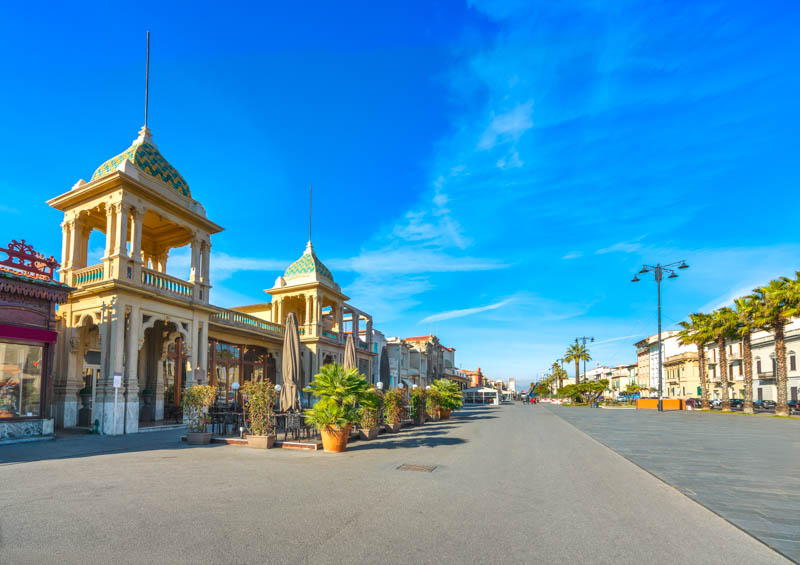 With over six miles of sandy beachfront, today Viareggio continues to be a popular seaside resort, especially for families wanting a beach holiday.
Access to much of the beachfront is paid. You can rent an umbrella and loungers, and hang out for the day. Payment also entitles you to the use of restrooms and showers.
From June to September the water is warm enough to swim, and the surf is shallow, making the beaches here great for families with kids. Bagno Maurizio has just under 100 feet of beachfront, and is clean and reasonably-priced.
Stroll the Passeggiata, the seafront promenade, lined with shops and restaurants. Admire the Art Nouveau architecture.
The Gran Caffe Margherita, designed by Alfredo Belluomini and artist Galileo Chini, is the most famous structure along the promenade. Reportedly, the cafe was a favorite place to relax for Italian composer Puccini.
For lunch, try Ristorante da Stefano. Their pastas are excellent, and the seafood dishes fresh and flavorful.
During Carnivale, which generally occurs from the end of January to the beginning of March, the town gets a big influx of visitors, who come to enjoy the five days of parades and floats during this period. While it is a fun time to visit, expect crowds.
Getting to Viareggio from Florence
You can take the train from Florence to Viareggio: the journey time is about one hour and 20 minutes. You can also drive, if you are touring Italy by car.
Contributed by us
Day Trip from Florence to Elba Island
One of the most exciting day trips from Florence you can do is to Elba Island, the island to which Napoleon Bonaparte was exiled.
Considered the crown jewel of the Arcipelago Toscano National Park, Elba Island is located between the Ligurian Sea and the Tyrrhenian Sea.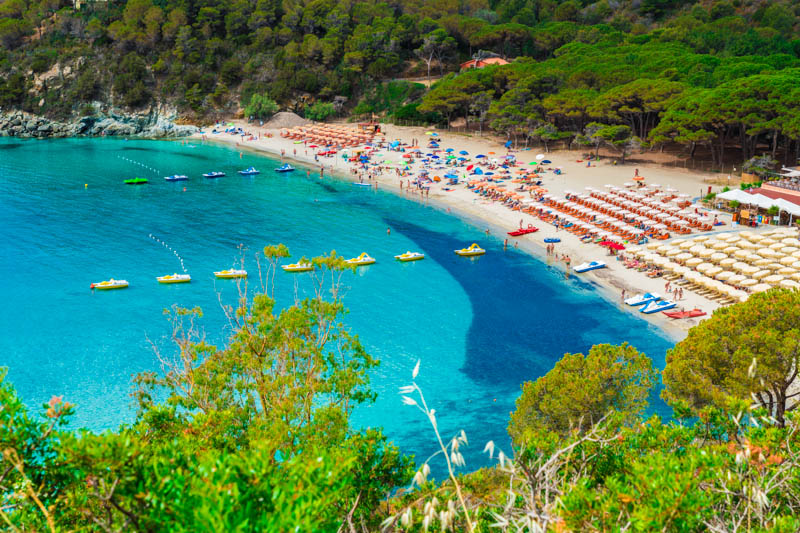 The island is large, with diverse landscapes, and you cannot really see all of it in one day. But on a day trip, you can certainly take in its beauty, and enjoy a few activities of your choice. Arrive early in the day, to maximize your time on the island.
The Palazzina dei Mulini in Portoferraio, Napoleon's residence on the island, is a must-visit. Tour the beautiful home and gardens and then head to Forte Falcone, built by the Medicis in the 16th century as a defense for the town.
Fort Stella, on the second-tallest hill, offers beautiful views. Also stop by at the Misericordia Church and the Museum of Napoleonic Antiques.
If you have a car, you can spend the rest of the day touring the island. the hill town of Marciana offers sensational views. Take the chairlift to the top of Mount Capanne, the highest peak on Elba Island. The views from the top are breathtaking.
Enjoy beach time at one of the many beautiful beaches on the island — Fetovaia and Cavoli are gorgeous — before making your way back to the ferry.
If you do not have a car, you can take the bus from Portoferraio to another part of the island for the afternoon. Take the bus to Marciana, or to Porto Azzurro, for some quiet time enjoying the beauty of the island.
Getting to Elba Island from Florence
To get to Elba Island from Florence, drive to Piombino Marittima, and then take the ferry (a combined journey time of about 3 hours).
There is a train from Florence as well, but it will not give you enough time on the island on a day trip. Alternatively, book a guided tour for a hassle-free way to visit the island.
Contributed by us
Other Day Trips from Florence
Day Trip from Florence to the Cinque Terre
The five fishing villages known as the Cinque Terre are some of the most beautiful spots on the Italian Riviera. If you want to experience Italy like it is portrayed in the movies, this is the place to go.
Come to the Cinque Terre for incredible hiking, Italian culture, and charming architecture.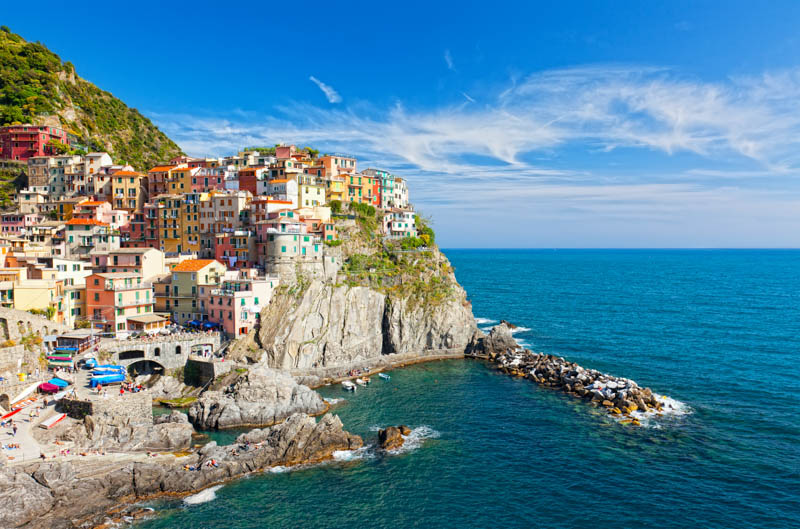 It's definitely possible to see all five villages in one day but if you truly want to enjoy your time in the Cinque Terre, you should pick one or two, so you can spend more time enjoying the place and less traveling.
Riomaggiore, Manarola, Corniglia, Vernazza and Monterosso are all remarkable in their own way, so which ones you visit is up to you.
Spend the day by the beach or explore the alleyways of the villages. Don't forget to have lunch in a traditional Italian restaurant after you have explored the nearby trails like the Sentiero Azzurro, which takes you along an old mule road from one village to another.
If you're not in the mood for hiking in the hot sun, you should take the train between the villages. This is a great way to get around and lets you see the surrounding countryside while you are at it.
Getting from Florence to the Cinque Terre
To get to the Cinque Terre from Florence you need to change trains in La Spezia, which is easily manageable. The fast train from Florence to La Spezia takes about 2 hours. At La Spezia, switch to the local Cinque Terre train to get to one or all of the villages.
Of course, if you have a car you'll have a lot more freedom to explore. However, parking can be tight, so taking the train is highly advisable. During the Italian summer, you could also take a ferry to the villages, which is an incredible experience.
This highly-rated guided tour of the Cinque Terre from Florence offers the option to add on a scenic lunch and/or a hike through coastal vineyards. The full-day tour includes the option for a boat ride between April and October, to see the villages from the water as well.
Book this tour now!
Contributed by Victoria from Guide Your Travel
Day Trip from Florence to Venice
Venice is an ancient city built on a lagoon in the Adriatic Sea. With striking facades overlooking the winding canals, Venice is one of Italy's most picturesque cities. It is a vibrant city full of history, art, architecture, cafes, and restaurants, which all tell the story of this mesmerizing city.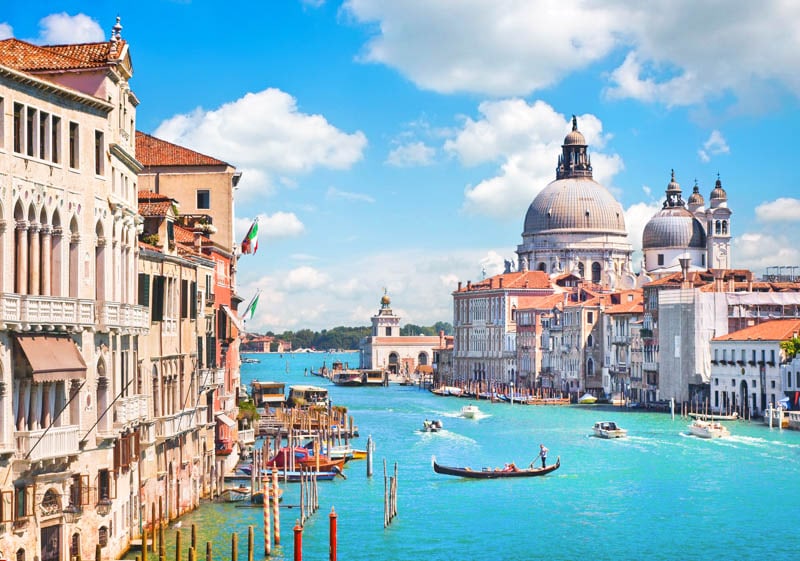 Venice has strict laws about historical preservation, so a lot of what you see is much like it was a half-century ago. It feels like you are walking through history!

You will want to experience a gondola ride in Venice and see the city the way it was meant to be seen. Visit St. Marks Square, where everyone comes to see and be seen, and enjoy people watching at Caffè Florian.
St. Mark's Basilica and the Doge's palace, the two most iconic buildings in Venice, stand side by side. Skip the massive lineups by going early, or get a guide to skip the line and view the most important treasures.
Allow yourself to get lost in Venice, as the hidden paths you find will be some of the most memorable parts of the city. Walk away from San Marco to some of the other districts like Dorsoduro and Canareggio to see the quieter, real Venice.

A great spot for lunch, Trattoria alla Madonna, is hidden in a narrow street located near the Grand Canal and the Rialto Bridge. Serving traditional Venetian cuisine, the restaurant feels rustic and truly Italian and has fantastic seafood.
Getting from Florence to Venice
The distance from Florence to Venice is 160 miles. On a high-speed train, Venice can be reached in just over two hours, and it's the best way to travel from Florence for a day trip to Venice.
If you are driving, the autostrada (highways A13 and E35), takes around three hours.
Contributed by Debbie from World Adventurists
Day Trip from Florence to Milan
One of the best places to visit in Northern Italy, Milan makes an easy and fun-filled day trip from Florence.
Milan is considered one of the global "Big Four" fashion capitals of the twenty-first century, along with Paris, London, and New York. So fashion week is a great time to visit Milan if you enjoy haute couture.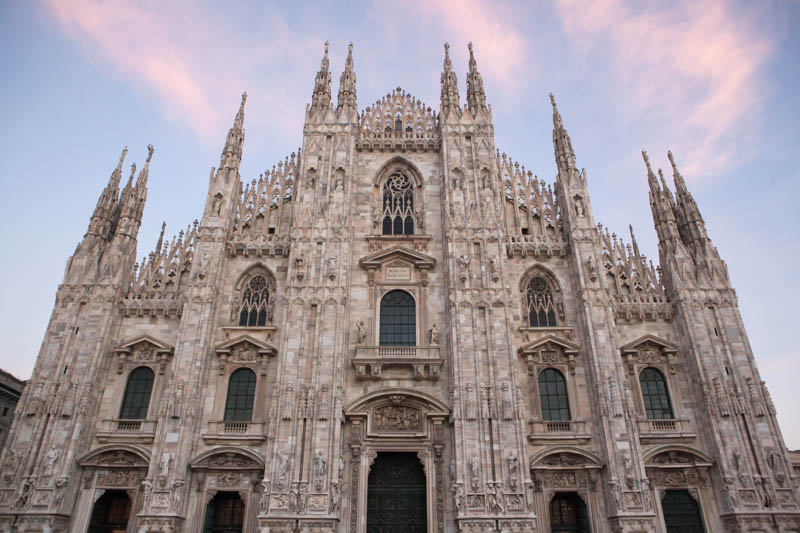 Milan's UNESCO World Heritage Site is the Church and Dominican Convent of Santa Maria Delle Grazie, which houses the painting "The Last Supper" by Leonardo da Vinci.
Book a walking tour to take in the best sights in Milan in an efficient way on a day trip, including "The Last Supper."
In the city center, you will find the biggest church in Italy, the Gothic Duomo di Milano dedicated to the Nativity of St Mary. It was built over six centuries and houses many artworks from different periods.
Book skip-the-line tickets to the Milan Duomo ahead of your visit, to save time!
Across the Piazza del Duomo is the splendid Grand Galleria Vittorio Emanuele II, the oldest shopping mall from the 19th century, with two glass-vaulted arcades.
On the other side, you can admire the famous opera venue, La Scala, from the 18th century. Other places of interest in Milan include Castello Sforzesco, the Pinacoteca di Brera art gallery, the 4th-century church St. Ambrose, and Piazza dei Mercanti.
For sports fans, Milano is home to two world-class soccer clubs: AC Milan and Internazionale Milano that share the stadium San Siro with 83,000 seats.
For lunch on a day out in Milan, try Ristorante Savini in the Galleria Vittorio Emanuele II, a favorite of locals, or the traditional Al Cantinone withh its trattoria atmosphere and hearty portions.
Getting to Milan from Florence
Milan is less than two hours away from Florence by fast train.
Contributed by Džangir from Dr. Jam Travels
Day Trip to Rome from Florence
Packed with some of the most beautiful archeological sites you'll ever see, and pretty plazas, fountains and churches galore, Rome certainly deserves more than just a day trip. But if that is all you have, you may as well go and try to make the most of it.
There are so many things to do in Rome that you'll want to toss that proverbial coin into the Trevi Fountain to assure your return some day!
Carefully pick the places you want to visit, stick to a good itinerary, and get skip-the-line tickets. If it is your first time in the city, you should visit the classic Rome landmarks:
The Colosseum – Perhaps the most iconic image of Rome, it's where gladiators fought against wild animals. The structure is a fantastic example of what Romans were able to achieve. Tickets cost €16 and must be booked in advance.
The Roman Forum – Admission is included in your Colosseum ticket price, so you shouldn't miss the opportunity to wander the ruins of the Forum and admire the remains of ancient temples.
Altare della Patria – Easy walking distance from the Roman Forum, the pristine white monument is dedicated to the first king of united Italy.
Largo di Torre Argentina – Not far from the Altare della Patria once you pass Piazza Venezia, this archeological site is where Julius Caesar was stabbed to death and now houses a famous cat sanctuary. Browse around the ruins, pet the cats, and maybe make a donation.
The Pantheon – construction of this temple-now-Catholic church was ordered by Emperor Hadrian in 126 AD. You can view the tombs of artist Raphael and King Victor Emmanuel II. Access is free.
For lunch, make a small detour and head to the Jewish Ghetto to try some dishes of Roman Kosher cuisine. Baghetto is a safe bet for delicious food.
Getting to Rome from Florence
The easiest way to get from Florence to Rome is by train. Frecciarossa trains depart from Santa Maria Novella Station and reach Rome Termini Station in 1 hour and 36 minutes.
Contributed by Claudia from Strictly Rome
Day Trip from Florence to Bologna
Known for its beautiful architecture, many porticoes, and delicious food, Bologna has acquired three nicknames over the centuries: la dotta (the learned, in honor of its university), la rossa (the red, for the hue of many of its buildings), and, most important to day trippers, la grassa (the fat, in honor of its food).
Come to Bologna to explore, yes–but also to eat.
With a day trip to the city, you can check out several of the best things to do in Bologna, including visiting the charming Piazza Maggiore, climbing the leaning Asinelli Tower for incredible views of the city, tracking down some of Bologna's hidden canals, and strolling down the charming Via Drapperie.
No day trip to Bologna is complete without a giant meal, though: sit down at lunch for at least three courses, and be sure to try Bologna's signature dish, tagliatelle al ragu, while you're there. This is the same dish that is ostensibly called "spaghetti bolognese" in the rest of the world–but the imitations are absolutely nothing like the real thing.
Getting to Bologna from Florence
The easiest way to take your day trip is to travel from Florence to Bologna by train: tickets are affordable, and if you take the local train (also known as the slow train), the prices are fixed and the journey takes about 1.5-2 hours each way.
Contributed by Kate from Our Escape Clause
Day Trip from Florence to Portovenere
The charming village of Portovenere shares the same stunning coastline as the Cinque Terre, yet it is far less frequented than its five famous neighbors.
You can also combine a visit to Portovenere with lovely Lerici, for a fantastic day out from Florence.
Located just a short drive from La Spezia, in the Bay of Poets, Portovenere is an idyllic spot, surrounded by islands, a National Park, and plenty of historical attractions to explore.
Arrive early to beat the crowds and spend the day lazing on its beaches, taking the ferry out to the wild and rugged Palmaria Island, exploring the Doria Castle and rambling through the old town's maze of streets.
Be sure to also take a dip at Lord Byron's beloved grotto, climb up into the hills for the best views of the village and bay that lies beyond, and amble up to the Church of St. Peter with its rooftop terrace and the loggia with a view next door.
When it's time for lunch, dine on the fresh catch of the day at the seaside Torre di Venere, nearby St Peter's church.
Or, if you're just after a casual bite to eat, pick up some fresh pasta smothered in freshly made pesto at La Bottega del Pesto on the main street, and follow it up with a delicious gelato as you wander through the cobbled lanes.
Getting to Portovenere from Florence
Portovenere makes an easy day trip from Florence by car, taking around 2 hrs each way. Or, if you're taking public transport, you can catch the train from Florence directly to La Spezia where you can transfer to a bus or ferry for the final leg of the journey.
Contributed by Nadine from Le Long Weekend
Day Trip to Porretta Terme from Florence
Tucked away in the Reno Valley of the Tuscan-Emilian Appenines north of Florence are dozens of charming small towns, natural wonders, and roads just crying out to be explored.
Not far from Florence is Porretta Terme, a small town that's grown around its most famous local attraction since Roman times — thermal hot springs.
The town is also a good base for winter sports like downhill and cross-country skiing, making the combination of snow and hot springs the reason many Italians head here to relax in the winter months.
To soak in the springs, head to the Hotel delle Acque & Natural Spa. It's open to the public year round.
There are several ski resorts to enjoy in the nearby Corno alle Scale Regional Park, and Dardagna Falls is a favorite hike among outdoor lovers, just one of the many scenic landscapes to explore.
Be sure and stop for lunch or dinner at Antica Trattoria Toscana for the perfect plate of local pasta and a glass of wine.
Finally, if you're a lover of soul music, and plan on visiting the region in mid-late July, the Porretta Terme Soul Festival is a must-see.
Since 1987, the show has been dedicated to the memory of soul legend Otis Redding and is an easy day trip from Bologna or Florence to catch the show.
Getting to Porretta Terme from Florence
If you love a good road trip, driving to Porretta Terme is easy and recommended. But trains run frequently from both Florence and Bologna directly into town.
Contributed by Lori from Travlinmad, Photo Credit Travlinmad
Day Trip from Florence to Modena
Modena, in the charming northern region of Emilia Romagna, is famous for fast cars, fine food, and world famous Italians.
From Enzo Ferrari, race car driver and man behind the eponymous supercar brand, to the renowned opera singer Luciano Pavarotti, some of Italy's most famous exports come from Modena.
Not only is Modena the home of Ferrari, but it is also the founding place for other supercar brands including Lamborghini, Maserati and Pagani.
All of these cars are still designed and produced in Modena today and visitors can actually go to see the production lines and factories, with the Lamborghini factory being the easiest to visit.

Modena is also famous for its food, with many PDO (protected designations of origin) products originating here. A great place to sample and purchase these foods is at the atmospheric and exciting Mercato Albinelli food market.
Make sure to also visit the heart of Modena, which is packed with interesting sites, including the stunning UNESCO World Heritage Piazza Grande.

This beautiful city is an easy day trip from Florence. For lunch, you must visit Franceschetta58, associated with world-renowned chef Massimo Bottura, or Ristorante da Danilo, a traditional and well-liked Modena eatery.
Getting to Modena from Florence
You can travel from Florence to Modena by train. The journey takes about one hour and 27 minutes on average.
Contributed by Claire from Stoked to Travel
Day Trip to Assisi from Florence
Assisi is a beautiful Umbrian hill town, famous as the birthplace of Saint Francis. On a day trip from Florence to Assisi, you can take in the major sights, but start early to maximize your sightseeing time.
The Basilica of Saint Francis should be at the top of your one day itinerary for Assisi. The world-famous Catholic religious site is part of Assisi's UNESCO World Heritage designation and has two levels.
The Lower Basilica is Romanesque and the Upper Basilica is Gothic. The interiors feature stunning frescoes by masters such as Giotto.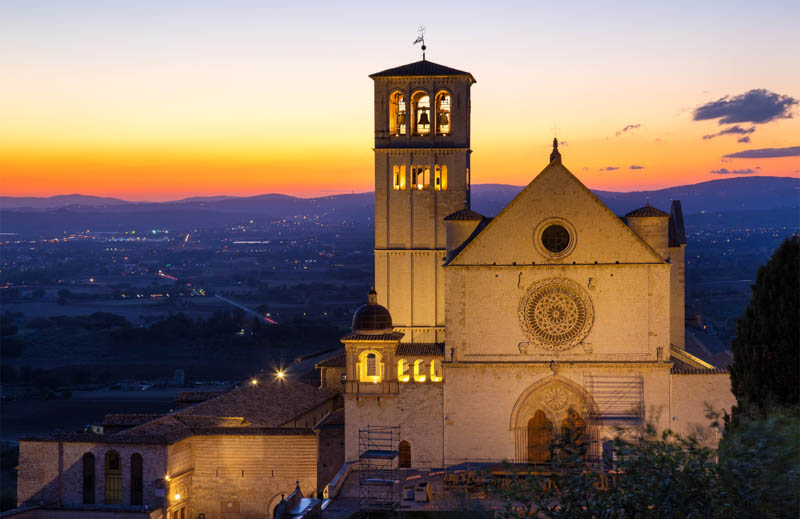 The Basilica of Saint Claire, a 13th century Gothic church, is another must-visit sight in Assisi, as is San Rufino, the Assisi Cathedral.
Wander the streets of the centro storico, also part of the UNESCO site. The Oratorio dei Pellegrini is a gem you definitely must not miss: the small chapel has been beautifully frescoed.
If you have the time, and the energy, a walk up to the Rocca Maggiore, the castle that looms over the town, is worth the effort. The views from the octagonal tower are superb.
For lunch, try Trattoria Pallotta, located in front of the Temple of Minerva in the Piazza del Comune. They offer delicious local Umbrian cuisine and a good selection of wines.
Getting to Assisi from Florence
While you can drive to Assisi if you are touring Italy by car, you can also visit from Florence by fast train. The journey is a little over two hours.
Contributed by us
Florence to Lake Garda Day Trip
If you're looking for a fun day trip from Florence, head to Lake Garda. This beautiful lake is the largest lake in Italy and known for its crystal clear waters and breathtaking scenery.
The lake is too large to travel around in one day (unless you are touring Italy in a campervan or car) but there's plenty to do just at the southern end of the lake, nearest to Florence.
First, head to Grotte di Catullo, the ruins of a Roman Villa, built over 2000 years ago! Get here as early as you can because it's a huge tourist attraction and by mid-morning it will be very crowded.
Next, visit nearby Sirmione. This picturesque town looks like it was built for a Hollywood movie, but actually dates back to Roman times. The fortress is 12th century and you can book a tour around the inside if you wish: the views down the lake are even better higher up.
Don't miss the chance to wander around the town. There are some fantastic boutique shops and plenty of cafes with unbeatable views. Bruschetteria Nose has some wonderful light options for lunch.
If the weather is nice, why not take to the water? You can rent a boat of your own in Sirmione, or join one of the frequent tours. Alternatively, if you are driving a small car, head up the western side of the lake and drive the Gorge Road, one of the most incredible roads in Europe.
Getting to Lake Garda from Florence
Lake Garda can be reached in around 2 hours from Florence by road, or 4 hours by train, so driving is the best option for this day trip.
Contributed by Kat from Wandering Bird
Day Trip from Florence to Verona
Verona is perfect for a day trip. It's a city made for wandering and small enough that in one day in Verona you can see the major sights. There's a real Romeo and Juliet theme running through Verona, since this fictional tale was set here.
Among the many things to do in Verona, you can stand on Juliet's balcony, and learn more about the history of Shakespeare within the city.
Also consider popping into one of the many bakeries for some 'Romeo's Sighs and Juliet's Kisses' — sweet biscotti that are sold by the weight and very tasty.
Verona's most awesome attraction is the historic Arena in Piazza Bra, older than the Colosseum in Rome and much more accessible. The crowds here are less, and it is much easier to wind your way through, making it much more evocative.
It's also great to get an overview of the city by climbing up the Lamberti Tower (Torre dei Lamberti), which is right in the center. This 12th century tower gives a lovely perspective over the terracotta rooftops of Verona.
Whether you're visiting as part of a family holiday to Italy, or on a romantic couples trip or solo jaunt, the gelato shops of Verona are legendary and everyone will enjoy the sweet treats!
Verona certainly works for a day trip but once you do go, you will want to return again for longer.
Getting to Verona from Florence
You can take a fast train from Florence to Verona and arrive in about one hour and 30 minutes.
Contributed by Victoria from Family Hotel Expert
Day Trip from Florence to Padua
Padua is an excellent day trip from Florence because it is a delightful city full of churches, piazzas, frescoes, and history. It has one of the oldest and largest universities in Italy, and therefore, there are many young people and students.
The city is pedestrian-friendly, and all of the attractions are accessible on foot in walking distance of each other.
There are many exciting things to do in Padua on a day trip. First, visit Prato della Valle, which is one of the biggest squares in Europe. It is beautiful because of the 78 statues around the canals and is a popular place for locals to relax.
Second, you should visit Palazzo della Ragione, a medieval town hall with frescoes on its top floor. Thirdly, check out the Piazza dei Signori and the Clock Tower that stands tall in the square.
Finally, visit the Scrovegni Chapel, which contains a fresco cycle masterpiece by Giotto and is arguably one of the most important pieces of Western art.
Make sure you have an aperitif or lunch at La Yarda, which is the perfect place to soak up the youthful atmosphere and enjoy a spritz.
Getting to Padua from Florence
The most convenient way to reach Padua from Florence is to catch a direct high speed train through the Italian countryside. The journey will take less than 2 hours, whereas it is 2 hours 45 minutes by car.
Contributed by Rachel from Average Lives
Day Trip from Florence to Ferrara
Florence is one of the most popular cities in Italy and for good reason. Apart from being a dreamy destination in itself, it's also the perfect base from where to explore other fascinating destinations in Italy, such as Ferrara.
Ferrara, a gorgeous medieval town with irresistibly authentic vibes, is one of the country's best-kept secrets.
Although relatively small in size, Ferrara hides many treasures. Among the best things to do there, a visit to the imposing Castello Estense definitely stands out.
Other ways to appreciate Ferrara's distinct charm include walking or cycling along the old medieval walls, marveling at the remarkable Palazzo dei Diamanti and mingling with locals at Piazza Cattedrale.
Like everywhere else in Emilio-Romagna, Ferrara is a true culinary heaven. The best place to try the local cuisine is the Osteria I Quattro Angeli.
Apart from mouthwatering traditional dishes, such as cappellacci di zucca, this restaurant also boasts a prime location with breathtaking views to the glorious Castello Estense.
Getting to Ferrara from Florence
If you're enjoying Italy on a road trip, driving time from Florence to Ferrara ranges from two to three hours, depending on the selected route.
However, if driving isn't an option, the most convenient and hassle-free way to get to Ferrara from Florence is by train. Journey time is slightly less than two hours on average, but the excellent views along the way will keep you engaged.
Contributed by Maria from It's All Trip to Me
*****
So there you have it: our suggestions for two dozen exciting day trips to add to your itinerary for Florence. Which ones will you choose?
If you enjoy day trips as a means to exploring out from big cities, check out our other day trip guides for Italy!
Did you find this article informative? Pin it for later reference!