Looking for day trips from Bologna, Italy? Located in the northeastern Italian region of Emilia-Romagna, Bologna makes for a fabulous base from which to explore more of Italy.
From historic cities to charming little towns, you have lots of options when it comes to choosing day trips from Bologna to add to your itinerary.
You'll find fabulous art and architecture, lots of history and culture, great food and wine, and beautiful views at the Bologna day trip destinations I have put together.
Many of these destinations feature in the list of the best UNESCO World Heritage sites in Italy. And all of them are convenient to visit for the day from Bologna.
Some links on this page may be affiliate links. If you click an affiliate link and make a purchase, we may receive a small commission, at no extra cost to you. For more details, refer to our disclosure.
If you have just one or two days in the city, you will likely want to spend that time just focusing on things to do in Bologna, from strolling through Piazza Maggiore to walking the longest portico in the world.
But with more time, you can add some very cool day trips to your Bologna itinerary!
The Best Day Trips from Bologna by Train
On a recent visit to Italy, we spent several weeks in Bologna, and had a wonderful time doing day trips to many destinations from our base in the city.
Coming back each night to yet another delicious dinner in the foodie capital of the country wasn't a bad perk either!
We did every single day trip from Bologna by train. Train travel in Italy is easy, inexpensive, and hassle-free. But of course, you can do these day trips by car if you've rented one for your Italy trip, or do guided tours.
Here, then, are the best day trips from Bologna to consider adding to your itinerary:
Day Trips from Bologna within Emilia-Romagna
You don't have to travel very far for beautiful day trip destinations from Bologna: there are several great places to explore within the region of Emilia-Romagna, where Bologna is located.
#1 Ravenna: Mosaics and More
With no less than eight UNESCO monuments and dazzlingly beautiful mosaics considered the best in the world after Istanbul, Ravenna is a must-visit if you love art and history.
Ravenna's gorgeous mosaics made it one of our most favorite Bologna day trips.
If you get a reasonably early start, you can definitely see the six UNESCO sites that are within walking distance of one another in the city center. And if you are up for a little longer day, you can also visit the Basilica di Sant'Apollinare in Classe by taxi.
The mosaics in the Basilica di San Vitale and the Mausoleum of Galla Placidia, in the Ravenna city center, will take your breath away with their magnificence.
Other than viewing the Ravenna mosaics, visit Dante's modest tomb, wander the beautiful streets of the historic center, and try a piadina, the local flatbread that's stuffed with meat or cheese and folded over.
Consider a guided tour of the monuments for an exponentially more enriching experience. This highly rated private half-day tour covers the most important mosaic sites and you'll come away with a wealth of knowledge about Ravenna's history and art!
Book this tour now!
Getting from Bologna to Ravenna
It's very easy to do a Bologna to Ravenna day trip by train!
The direct train from Bologna to Ravenna takes a little over one hour. It's an easy 10-minute walk from the train station in Ravenna to Piazza del Popolo, the main square in the centro storico, or you can take a local bus.
READ NEXT: The Ravenna Mosaics – See 6 UNESCO Monuments in One Day
#2 Modena: Home of Balsamico Aceto Tradizionale
When you think of Modena, its world-famous balsamic vinegar comes immediately to mind.
The good stuff, aged 10, 12, 25, or even 50 years, is super expensive, but it's so decadently rich, fragrant, and flavorful that it's worth every penny.
On a Bologna to Modena day trip, tasting Modena's famous balsamic vinegar should be at the top of your itinerary!
For a special experience in one of Italy's foremost foodie cities, book a Modena food tour! This 3-hour experience includes tastings of Modena balsamic, a visit to the Mercato Albinelli, and stops at area restaurants. The tour is very highly rated. Book this tour now!
Modena is also home to beautiful architecture. Visit the beautiful Modena Cathedral, gawk at the Ghirlandina Tower, stroll Piazza Grande, and wander the pretty streets.
Modena's cathedral, bell tower, and the Piazza Grande form a UNESCO World Heritage site.
Modena has many other pretty churches, gorgeous porticoes, and beautiful palaces, so spend some time wandering its streets.
Also visit the Mercato Albinelli, where you can shop for local products.
Ferrari fan? Visit the Museo Enzo Ferrari Modena! Tour the house where Enzo Ferrari was born, and gawk at the gleaming cars on display.
A paid shuttle links the Modena train station with the museum in Modena as well as the Ferrari Museum in Maranello, a few miles away.
Getting from Bologna to Modena
You can travel from Bologna to Modena by train. The journey takes about 30 minutes. It took us about 15 minutes to walk from the station to the city center. You can take the local bus as well.
#3 Parma: Ham and Cheese, Anyone?
Emilia-Romagna offers lots of fabulous gastronomic experiences, and Parma, the home of Parma ham and Parmigiano Reggiano cheese, is a great place to tour a traditional cheese producer and sample the tasty treats.
Parma has been recognized by UNESCO as a Creative City of Gastronomy.
Also visit the magnificent Parma Cathedral, which houses a Correggio masterpiece. The interior is super ornate and covered with frescoes. The Baptistery next door is also gorgeous.
Walk around the centro storico and admire the architecture: you'll see lots of palazzos and a number of other churches. Don't miss the Teatro Farnese, built entirely of wood: it is inside the Palazzo del Pilotta.
Getting from Bologna to Parma
You can do a Bologna to Parma day trip by train in a little under one hour.
From the train station, Strada Garibaldi is about a 5-minute walk, and the Cathedral is about a 12-minute walk. You can also take a bus from the station into the center.
#4 Ferrara: A Medieval Castle with a Moat!
Ferrara is famous for the structures built by the House of Este, the powerful family that ruled the province during Renaissance times. Ferrara is designated a UNESCO World Heritage site.
Visit the Este Castle, complete with moat, located right in the historic center. Built in the 14th century as a safe residence for the Duke of Este, the castle features four majestic towers. You get beautiful views of the rooftops of Ferrara from the towers.
Admire Ferrara's Cathedral of Saint George, with its gorgeous Gothic facade. Walk all around the historic center to appreciate all the beautiful buildings. Don't miss the Palazzo dei Diamante, with its extraordinary exterior. The palace houses the National Gallery.
Ferrara has a lot to see and a rich history, so consider a guided tour for the best experience! This highly-rated private 3-hour tour with a topnotch local guide helps you make the most of your visit, and you can wander around afterwards on your own. Book this tour now!
Getting from Bologna to Ferrara
A train will get you from Bologna to Ferrara in about 30 minutes, so Ferrara makes for a very easy day trip from Bologna. The centro storico is about a 20-minute walk from the train station. Or you can take a local bus, and get off at the castle in the historic center.
Read Next: The Best Things to Do in Ferrara, Italy!
#5 Rimini: Roman Ruins and a Beautiful Beach
Located on the lovely Adriatic coast, Rimini should pique your interest if you love some beach time on your vacation. It does tend to get crowded in the summer though, so plan to visit in late spring or early fall.
Spend the morning walking around the historic center. Stroll Piazza Cavour, admire the Arch of Augustus, visit the site of the ancient Roman forum at the Piazza Tri Martiri, and snap a photo of the Tiberius Bridge. Don't miss the beautiful Tempio Malatestiano!
In the afternoon, make time to enjoy the beach. The Rimini Beach is large and sandy, with sun beds available for rent.
If the beach doesn't appeal, rent bikes and ride across the Tiberius Bridge (or walk across) to explore Borgo San Giuliano, with its pretty painted houses and street art.
Getting from Bologna to Rimini
You can travel from Bologna to Rimini by train in a little over one hour. You can walk from the train station to the city center in about 15 minutes, or take the local bus or a taxi.
Day trips from Bologna to nearby Veneto
The neighboring region of Veneto offers lots of choices for day excursions from Bologna, with its many historic canal cities, a natural landscape that encompasses the Dolomites and Lake Garda, and charming small villages.
#6 Venice: Queen of the Adriatic
Of course you need much longer than just one day to really do justice to iconic Venice. But if you have visited Venice before, you may wish to return to a few specific sights or just to wander.
Or if you haven't been yet but you'd like a sneak preview, a day trip is just the ticket.
On a day trip, you don't have the time to enter inside many attractions, but you can enjoy Venice just by wandering around.
My picks for specific sights would be a ride to the top of the Campanile for views over the city and the lagoon (together a UNESCO World Heritage site), and a guided tour of the Doge's Palace and Saint Mark's Basilica.
This very well reviewed 3-hour tour of the Basilica and the Doge's Palace with a knowledgeable local guide will ensure you have the best experience at the top two sights in Venice. Book this tour now!
Don't want to do a guided tour? Buy your priority ticket for the Doge's Palace so you can skip the lines!
Walk around Saint Mark's Square and snap a photo of the Bridge of Sighs. Head to the Accademia Bridge for a stunning view of the Grand Canal. Admire the renowned Rialto Bridge.
Then wander into some of the less frequented parts of Venice, to get a true non-touristy feel for the city. Because during the day, all the major sights will be super crowded. The Dorsoduro and Canareggio districts are a distinct joy if you're looking to get lost in Venice.
Getting from Bologna to Venice
It takes about 1.5 hours to travel by train from Bologna to Venezia Santa Lucia. It takes about 20 minutes to walk from the Santa Lucia train station to Rialto Bridge, and about 30 minutes to walk to Saint Mark's Square.
You can also ride the vaporetto from the train station to Saint Mark's Square, but opt for a day pass so you can hop on and off at will during the day.
READ NEXT: How to Make the Most of 2 Days in Venice
#7 Verona: City of Romance and Roman Ruins
Verona's historic center is a UNESCO World Heritage site. Verona is definitely one of the most beautiful places to visit in Northern Italy, and one of the most romantic as well.
Beautiful architecture wherever you look, storied churches, and a stunning location along the banks of the Adige River: you are in for a treat when you visit.
We spent several days in Verona, and I could happily have stayed much longer, but one day in Verona is perfect for taking in the highlights.
Gawk at the enormous Roman Arena in Piazza Bra. Walk through the lively streets to Piazza dei Signori to admire the gorgeous architecture, then spend some time soaking in the atmosphere at the Piazza delle Erbe.
Head to the top of the Torre dei Lamberti for panoramic views over the rooftops of Verona. Step into the beautiful Verona Cathedral. Walk over the Ponte Pietra to the other side of the river and take the funicular to the Castel San Pietro for more epic views over the city.
Walk the beautiful streets of Verona, taking in the pretty balconies you will see everywhere in the historic center. And if you are an avid Romeo and Juliet fan, stop by the Casa di Giulietta to snap a photo of yourself on "the" balcony.
A 24-hour Verona card offers entrance to the Arena and the Lamberti Tower, plus many other sights in the city. Save time and money with the card. Get your card now!
Getting from Bologna to Verona
You can get from Bologna to Verona by train in just under one hour. From the Verona Porta Nuova train station, take the bus (or a taxi) into the city center.
READ NEXT: 25 Amazing Things to Do in Verona
#8 Padua: Giotto's Chapel and the Largest Square in Italy!
A lively university city, Padua has a beautiful historic center. It is the perfect size for a day trip, with enough things to see and do to keep you engaged through the day, but not overwhelming.
Visiting the Scrovegni Chapel should be at the top of your list of things to do in Padua. It's a UNESCO World Heritage Site.
Giotto's beautiful fresco cycles and the brilliant blue ceiling can be viewed on a timed visit, and you can take photos inside the chapel.
Browse the open market at the Piazza delle Erbe. Step inside the Palazzo della Ragione to view the frescoes, and have a drink at the historic Caffe Pedrocchi. Then walk over to the Basilica of Saint Anthony, which will impress you with its size and majesty.
Take a tour of the Anatomical Theater in Palazzo Bo. Walk through the oldest botanical garden in the world: Padua's Orto Botanico is a UNESCO World Heritage site. Then wander around the Prato delle Valle, the largest square in Italy that's actually elliptical in shape.
Getting from Bologna to Padua
You can travel from Bologna to Padua by train in about one hour. From the Padua train station, you can walk to the Scrovegni Chapel in about 10 minutes, and the city center is another 10 minutes away on foot. You can also take the local bus (or tram) or a taxi into the center.
READ NEXT: One Perfect Day in Padua, Italy
#9 Vicenza: Palladio's Architecture
If you enjoy architecture, you must definitely plan a visit to Vicenza, home to the architecture gems of Andrea Palladio. But even otherwise, Vicenza's historic center is charming and a pleasure to wander.
Stroll the Piazza dei Signori, the main square in Vicenza. Gape at the enormous Basilica Palladiana and the other beautiful buildings on the periphery of the square.
Visit the magnificent Teatro Olimpico, Palladio's last architectural project. The stage is gorgeous, with 3-D elements. Step inside the beautiful Chiesa di Santa Corona.
Walk, or take a taxi to the Villa La Rotonda, one of Palladio's gorgeous villas. The frescoes inside are superb, so make sure to step inside if open on the day you visit. Nearby is beautiful Villa Valmarana, with lots of artistic treasures, exquisite gardens, and great views.
We walked up the hill, in the footsteps of the pilgrims of yore, to the Santuario della Madonna di Monte Berico. It's not an easy walk, but you'll be rewarded with lovely views from the grounds.
If you plan to do this climb, I would suggest doing it first thing in the day, especially if you visit when it's warm out.
Getting from Bologna to Vicenza
I recommend splurging on a fast train, which will get you from Bologna to Vicenza in about 1 hour and 30 minutes. You have to change trains at Padua.
READ NEXT: Things to Do in Vicenza in One Day
Lombardy Day Trips from Bologna
To the northwest of Bologna, the Lombardy region is home to beautiful landscapes, with majestic mountains and lovely lakes. Its cities and towns are steeped in history and house numerous artistic treasures. Explore some of them from your base in Bologna!
#10 Milan: Magnificent Duomo and Da Vinci's Masterpiece
Milan has just a few iconic sights, so it makes perfect sense to visit it on a day trip from another base in Italy. We carefully planned out our day ahead of time, and we were able to check everything off our list on our day trip to Milan from Bologna.
Touring the iconic Duomo is likely at the top of your list of things to do in Milan. Allow plenty of time to visit all the areas, including the rooftop terraces for fantastic views and the archaeological site under the structure.
A ticket that allows you to skip the line to the terraces and enter the Duomo through a fast-track entrance is the way to go, to minimize the time spent waiting in line.
Consider a guided tour of the Duomo di Milano. There are lots of things to see, and a tour is an efficient way of seeing everything on a day trip (and learning in the process!).
Milan's other treasure, The Last Supper by Leonardo da Vinci, is best appreciated on a guided tour. The Church of Santa Maria delle Grazie, and the Refectory, which houses the large masterpiece, is a UNESCO World Heritage site.
Stroll through the Galleria Vittorio Emanuele II, Italy's oldest mall that is still operating. Snap photos of the beautiful ceiling, enjoy a pastry at the famous Biffi Caffè, and browse the many stores.
Getting from Bologna to Milan
You can get from Bologna to Milan by fast train in about one hour. From Milan Centrale, take the bus, the subway, or a taxi to Piazza Duomo.
#11 Mantua: Palazzi and Pasta
Mantua is not yet on the radar for many visitors to Italy, and that's a shame. But hey, that means you can enjoy the centro storico, a UNESCO World Heritage site, without the crowds, at least for now.
So consider adding Mantua to your list of day trips from Bologna!
Mantua was ruled by the Gonzaga family for hundreds of years in the middle ages. And the Palazzo Ducale, their main place of residence, is the most prominent attraction in the historic center.
While there's a lot to see in the palatial residence, the Camera degli Sposi, painted by Mantegna, is the pièce de résistance.
Palazzo Te is a bit of a walk, but the Room of the Giants, with its stunning frescoes, makes the effort worthwhile. Visit the Basilica di Sant'Andrea, and step into the Rotonda di San Lorenzo, Mantua's oldest church but now deconsecrated.
For lunch, try bigoli, the local pasta that is often combined with sardines, garlic, and olive oil. Or tortelli di zucca alla Mantovana: pumpkin stuffed pasta, which is super rich and slightly sweet.
Getting from Bologna to Mantua
You can travel by train from Bologna to Mantova. You have to change in Modena, and the journey takes about 1 hour and 45 minutes in total.
Day Trips to Tuscany from Bologna
Who can visit Italy and resist a jaunt to Tuscany, with its famous vineyards and charming hill towns? Well, with Bologna as your base, you can definitely add in a day trip (or two!) to Tuscany.
#12 Florence: David and the Duomo
You'd ideally want to spend at least 3 days in Florence, because there is just so much to see and do in the Cradle of the Renaissance.
But if a day trip is all you can accommodate, go knowing that you'll definitely want to return to experience the city in greater depth.
We spent several days in Florence on our first visit to Italy, and a day trip from Bologna on a later visit enabled us to just savor the amazing atmosphere of the city without the need to check things off a list. It was a lovely and liberating experience!
On a day trip, focus on 3 or 4 activities and spend the rest of your time just wandering around the historic center. A UNESCO World Heritage site, the centro storico of Firenze features gorgeous architecture and a lively vibe.
Reserve tickets (or tours) well ahead of time if your itinerary includes the Accademia (to see David) or the Uffizi Galleries to see all the world-renowned art or the climb to the top of the Duomo.
And do not miss sunset from Piazzale Michelangelo or San Miniato al Monte!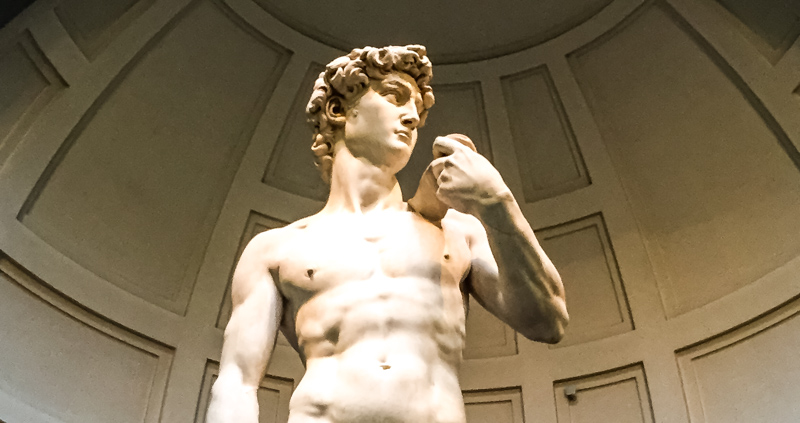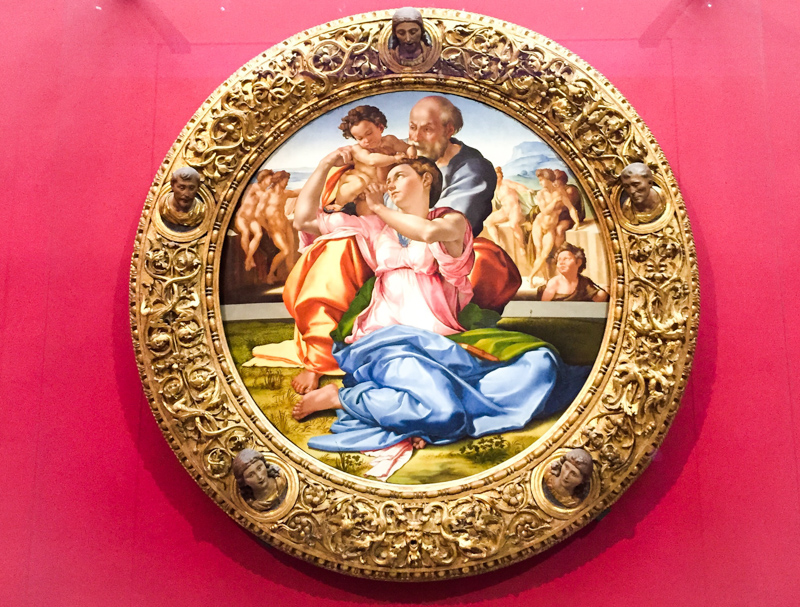 Getting from Bologna to Florence
To maximize your time in Florence, take a fast train, which will get you from Bologna to Florence in a little over 30 minutes. From the Santa Maria Novella train station in Florence, it's about a 10-minute walk to the Duomo di Firenze.
READ NEXT: The 10 Best Things to Do in Florence on Your First Visit
#13 Arezzo: A Hilltop Town with a Medieval Fortress
On our most recent trip to Italy, we spent most of our time in smaller towns off the popular tourist track, and enjoyed being able to really experience the destinations in relative peace and quiet. Arezzo was one such lovely town.
Visit the Arezzo Cathedral, located on a hilltop. Climb up to the 16th century Medici Fortress for magnificent views of the town and the surrounding countryside.
Step inside the Basilica di San Francesco to view the gorgeous fresco cycle The Legend of the True Cross by Piero della Francesca.
A couple of museums are worth visiting: the Archaeological Museum (along with the ruins of the Roman amphitheater), and the Museum of Medieval and Modern Art, with its large collection of artifacts.
Relax for a bit in Piazza Grande, the main square, to savor the bliss of being in Tuscany, far away from the madding crowds! And enjoy a traditional Tuscan meal for a very affordable price!
Getting from Bologna to Arezzo
It takes about 2 hours to get to Arezzo from Bologna by train, with a change in Florence. From the train station in Arezzo, you can walk to the historic center in about 15 minutes.
Visit Another Country for the Day from Bologna!
The landlocked microstate of San Marino is perched on a mountaintop and entirely surrounded by Italy. And it's possible to visit San Marino as a day trip from Bologna, if you are prepared for a long day and a long travel time there and back.
#14 San Marino: Clifftop Castles
Known as "The Most Serene Republic of San Marino," the fifth-smallest country in the world is worth a visit if you love castles perched precariously on tops of cliffs and 360-degree panoramic views.
There is no border control when entering San Marino, but for a fee you can get your passport stamped at the tourism office.
The historic center of San Marino and Mount Titano, the highest point in San Marino, are designated a UNESCO World Heritage site. Wandering the pedestrian-only historic center of the capital, also called San Marino, is a pleasure: it features gorgeous architecture!
A combined ticket allows you to visit the two larger castles in San Marino. Rocca della Guaita, the largest, is built right onto the rock, and is the one to tackle if you wish to visit just one. Castello Cesta, the second castle, now houses a museum of medieval weapons.
Stroll the Piazza della Libertà, where you can admire the facade of the Palazzo Pubblico. If you visit in the summer, be sure to take in the changing of the guard, which occurs several times daily.
Getting from Bologna to San Marino
This is the only day trip we suggest that isn't possible to visit just by train.
To get from Bologna to San Marino by public transport, take the train to Rimini, and then the bus from Rimini to San Marino. The train journey takes a little under one hour, and the bus journey is about 40 minutes.
The bus runs hourly. Be sure to allow for time to stand in line for the bus for your return trip!
Tips for Your Day Trips from Bologna
Using Train Travel for your Bologna Day Trips
We generally use trains to get around in Italy. Most places are well connected by train, and they are comfortable and generally on time. Trains are the ideal mode of transport for your day trips from Bologna.
Fast trains are of course more expensive than regional trains, and booking tickets ahead of time can save you money. Second class seats are just fine, especially since you will not have luggage on day trips.
I would splurge on fast trains only when there is a lot to see and do at the destination, and time is precious. Even then, check to make sure there is a material difference between the fast train and the regional train travel time before you book.
To book train tickets for Italy, check out Omio. I found the booking experience easy and hassle-free. They do charge a nominal service fee but I thought it was well worth the convenience!

Plan out your itinerary and book all your tickets at once and you'll pay the fee just once.
You can also buy train tickets for Italy on the Trenitalia or Italo websites, and at ticket machines or counters at the station. If you buy tickets at the station, make sure you validate them before you get on the train.
Regional train tickets can be purchased on the day of travel. That's what we did for most of the day trips we did in Italy.
Know that regional trains can get crowded during peak commute times. If you can avoid those times you'll have a much more pleasant travel experience.
It's also a good idea to buy your return tickets when you buy the tickets to your destination, to save time at the other end. Smaller places may not have a ticket machine or ticket window, and you do not want to be stranded.
Renting a car in Italy
If you are comfortable driving in Italy, and plan to rent a car while you are there, you can do all of these Bologna day trips by car.
Just be sure to avoid the ZTL (Zona a traffico limitato) areas, designed to control traffic levels in the historic cores of cities and towns. Else you'll receive a bill for a hefty fine.
Cars are great to travel the countryside, so you can stop to enjoy the views and take photos, and to visit smaller towns and villages. You can always mix and match, renting a car for a portion of your stay if it makes sense.
Discover Cars offers you the ability to compare availability and prices across many major car-hire companies. Pick the car that best meets your needs! Book your rental car for Italy now!
Walks of Italy Tours
Take Walks is a well-known tour company that was earlier called Walks of Italy. They offer guided tours in many Italian cities, including Florence and Venice.
Where tours by Take Walks are available, I suggest you review their offerings and pick one that appeals to you for a memorable experience that you will cherish forever.
We have done several tours with Take Walks, including a tour of the Uffizi in Florence, the Vatican Museums in Rome, and the Doge's Palace and St. Mark's Tour in Venice. Every single tour was exceptional, with small engaged groups and knowledgeable guides.
Review tours and book yours now!
Where to Base Yourself in Bologna
Bologna's historic center is the place to base yourself during your time in the city. You'll be close to major sights, amazing restaurants, and the best gelaterias.
From the Bologna Centrale train station, Piazza Maggiore in the historic center is about a 25 minute walk. But you can take the local bus from the city center to the station and back. Buses run frequently, and we took them to and fro on each of the several days we did day trips.
Hotels in Bologna
Phi Hotel Bologna Al Cappello Rosso is located a 2-minute walk from Piazza Maggiore. Housed in a 14th century tavern, the hotel offers well-appointed rooms with comfy beds. Each room has a kettle, minibar, and safe. Book a stay here!
Or consider the Art Hotel Orologio, located close to Piazza Maggiore. The hotel features beautiful traditional furnishings, but you won't be foregoing any mod cons here. Beds are super comfortable and you'll love the views of Bologna's beautiful buildings from the rooms.
Read reviews on Tripadvisor | Book a stay here
Art Hotel Commercianti is also located just off Piazza Maggiore, and convenient to major sights and a host of restaurants. It is a beautiful hotel, housed in a historic building. Beds are rated super comfy, the bathroom is spacious, and the breakfast sumptuous. Choose a room that overlooks the Basilica di San Petronio!
Book a stay here
*****
So there you have it: the best day trips from Bologna to add to your Italy itinerary!
If you haven't yet visited these fabulous destinations, start planning a trip to Bologna now! You will enjoy the city and the ability to explore beyond.
And if you are currently planning a trip to Italy, be sure to check out all of the articles in our Italy guide! I have the perfect 3-week Italy itinerary for your first visit, and lots of information on destinations in Italy.
*****
Enjoy day trips as a means to exploring out from big cities? Check out our other day trip guides for Italy!
More Information for Your Italy Trip
Capri: How to Spend One Perfect Day in Capri
Tuscany: See the Best of Tuscany in Just 7 Days
Rome: The Best Things to Do in Rome for First-Timers
Sorrento: The Top 10 Day Trips from Sorrento You Must Do
Amalfi Coast: Driving the Amalfi Coast of Italy
Cinque Terre: Two Magical Days in the Cinque Terre
Did you find this article informative? Pin it for later reference!