Planning a trip to Barcelona and looking for that perfect first-time 3 days in Barcelona itinerary?
A bucket-list destination for many travelers, Barcelona is not only one of the best places to visit in Spain, it is one of the most exciting cities in Europe.
Definitely deserving of its top billing on many a first-time visitor's Spain itinerary, Barcelona is a must-visit for its architectural marvels, rooftop views, vibrant neighborhoods, beautiful beaches, and tastebud-tickling food and drink.
Nine of Barcelona's landmarks are on the UNESCO World Heritage site list.
Immerse yourself in the Art Nouveau architecture of Antoni Gaudi. Soak in the ambience of the Barri Gòtic, El Born, or Gràcia. Catch a football game at Camp Nou, or some sun at the beach in Barceloneta. Take a food tour to sample Catalan cuisine. Watch the sunset from a rooftop bar.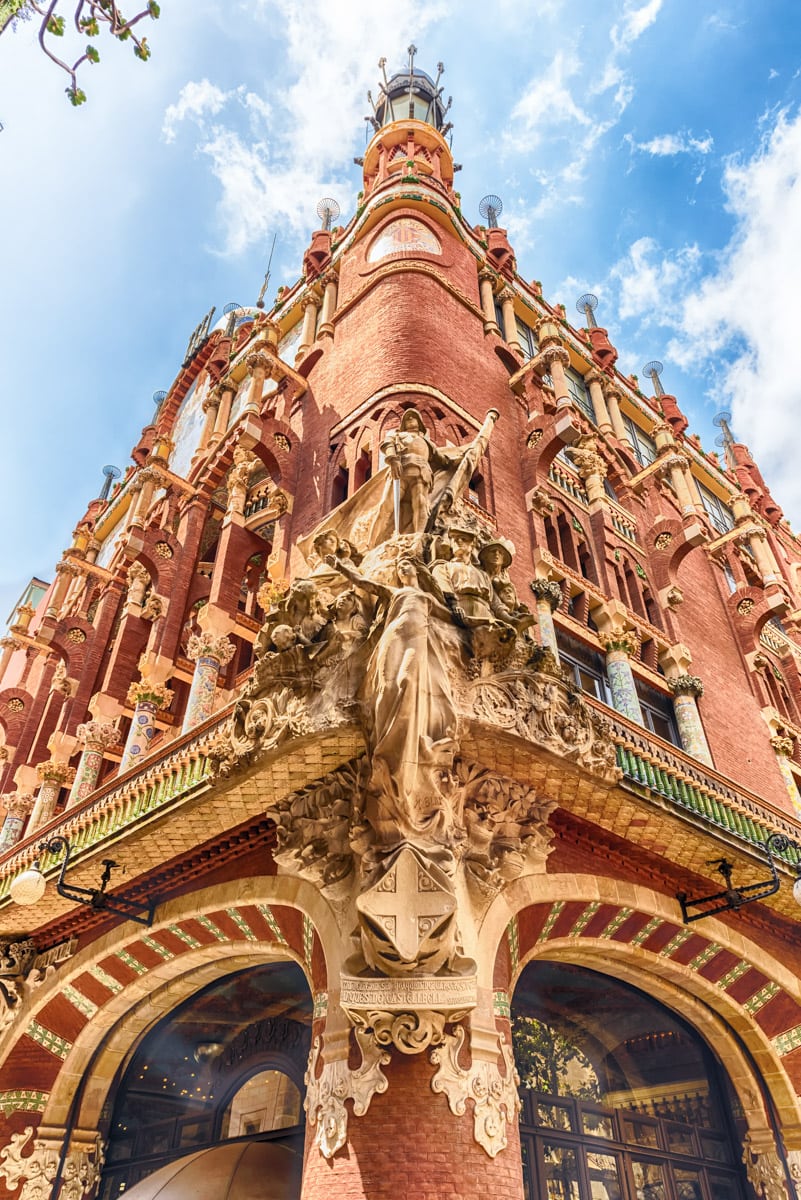 Some links on this page may be affiliate links. If you click an affiliate link and make a purchase, we may receive a small commission, at no extra cost to you. For more details, refer to our disclosure.
Whatever your travel style or interests, there are so many things to do in Barcelona that you'll be spoiled for choice when trying to plan your 3-day itinerary for Barcelona.
In fact, it can be a little overwhelming to narrow down the top things to do in Barcelona in 3 days!
Our first-timers' three days in Barcelona itinerary is an exciting mix of the best attractions and experiences in Barcelona, and designed to maximize sightseeing time on each of your precious days in the city.
We've also offered suggestions for where to stay and eat when you are in Barcelona, and the best time to visit this iconic destination.
Ready to get started? Let's discover the perfect 3 days in Barcelona itinerary!
IN THIS ARTICLE…
The Best 3 Days in Barcelona Itinerary
Getting to Barcelona
Getting Around in Barcelona
Where to Stay in Barcelona
The Best Time to Visit Barcelona, Spain
Frequently Asked Questions
The Ultimate 3-Day Itinerary for Barcelona
Day 1 of Your 3 Days in barcelona
Today you'll visit two of Gaudi's best architectural creations in Barcelona, the Sagrada Familia and Park Güell, both included in the "Works of Antoni Gaudi" UNESCO World Heritage Site.
You'll also have a chance to relax away from the crowds in Gràcia, one of Barcelona's many must-visit neighborhoods, and taste your way through an epic food tour!
Be Enthralled by the Sagrada Familia
The Basilica de la Sagrada Familia is the most popular Barcelona attraction, with a striking exterior and an equally incredible interior.
Designed by Antoni Gaudi, it's one of seven Gaudi buildings in Barcelona that make up a UNESCO World Heritage Site.
The iconic cathedral has been under construction since 1882 and it's still not finished. But despite its unfinished status, the Sagrada Familia is still breathtaking!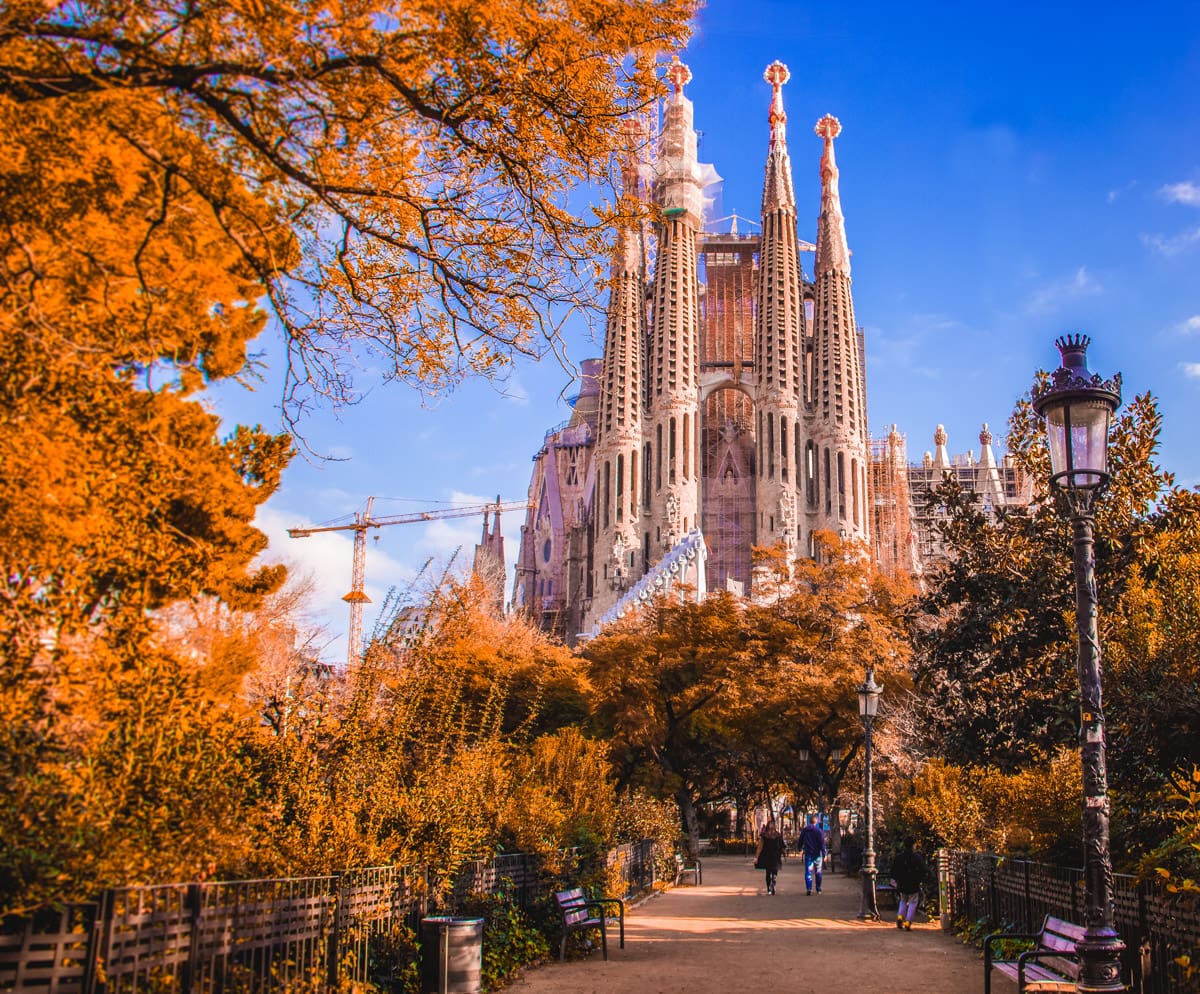 The exterior features three facades: while the richly-decorated Nativity facade and the simpler Passion facade are complete, the Glory facade, slated to be the grandest of the three, is yet to be done.
Perhaps the most striking feature on the exterior are the many steeples that rise up into the sky, creating a memorable picture.
Inside, the 36 columns, designed to represent a forest of trees and branches, will stop you in your tracks. The stained glass windows offer jewel colors to complement the architecture.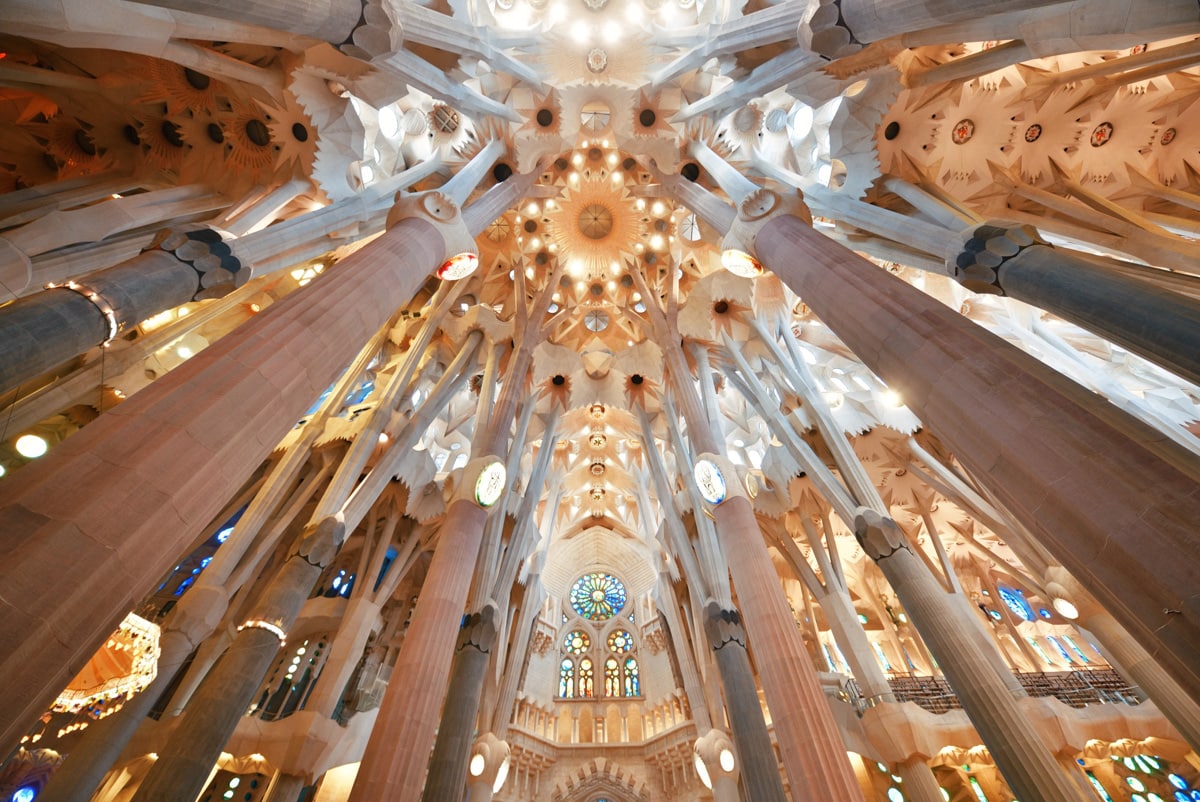 You should also visit the crypt (where Gaudi is buried), the museum under the church, and the towers, which offer panoramic views of the city.
Millions of visitors throng La Sagrada Familia each year, so advance booking is key for a hassle-free experience.
You can visit on your own, but be sure to purchase timed-entry tickets well ahead of time, either on the official website, or on GetYourGuide here.
We highly recommend investing in a guided tour of the Sagrada Familia. We visited on our own the first time, and with a guide the next, and the guided visit was distinctly superior in terms of what we saw and learned.
This popular 90-minute guided tour focuses on the Nativity and Passion facades and the interior of the church, with the option to visit the museum on your own afterwards.
This fast-track guided tour includes the towers and expert commentary from a knowledgable guide.
Book a skip-the-line small-group tour of the Sagrada Familia now!
If you have the Go City Barcelona All-Inclusive or Explorer pass, a skip-the-line guided tour of La Sagrada Familia is included!
Admire the Recinte Modernista de Sant Pau
Recinte Modernista de Sant Pau is still somewhat a hidden gem in Barcelona, but it's a must on your 3-day Barcelona itinerary if you enjoy architecture and history.
It's just a 10-minute walk from the Sagrada Familia, and the perfect next stop.
This magnificent complex, designed in Art Nouveau style and built between 1905-1930, was originally one of the city's important hospitals. To help cheer up the patients here, beautiful gardens were established, and you can tour them today.
Today, Recinte Modernista de Sant Pau is a UNESCO World Heritage Site. The architectural detail and the tile work inside will wow you, as it did us.
This stunning complex of buildings was designed by Lluís Domènech i Montaner, who also designed the Palau de la Musica, which we also recommend.
You can visit on your own: get your tickets here. Or opt for a guided tour.
Wander the Gracia Neighborhood
Once an individual town, the picturesque Gracia neighborhood is now part of the city and a great place to wander and have lunch.
Gracia is charming and historic, yet without the crowds of the Gothic Quarter or Las Ramblas, so it's a welcome respite in busy Barcelona!
Home to lovely plazas, affordable cafes and restaurants, and an artsy vibe, Gracia also makes a great place to stay while you are in Barcelona if you are looking for a more local ambience.
One of the most famous attractions in the neighborhood is Casa Vicens, Gaudí's first-ever home in the city.
Buy tickets for a self-guided visit, or book a guided tour.
Gracia is known for its many topnotch restaurants. Try pintxos at Gasterea, the fixed lunch menu at La Pubilla, or exceptional Catalan dishes at Roig Robi!
Pro Tip: Make sure you carry some cash with you as smaller eateries and shops may not accept cards.
Explore Park Guell
Located along Carmel Hill, Park Guell is one of the most iconic places to visit in Barcelona and one of the best things to do in 3 days in Barcelona.
Sprawling over an impressive 17 hectares (about 42 acres), Park Guell is one of the largest green areas in the city. It features a variety of plant life, epic views of Barcelona, and many walking trails.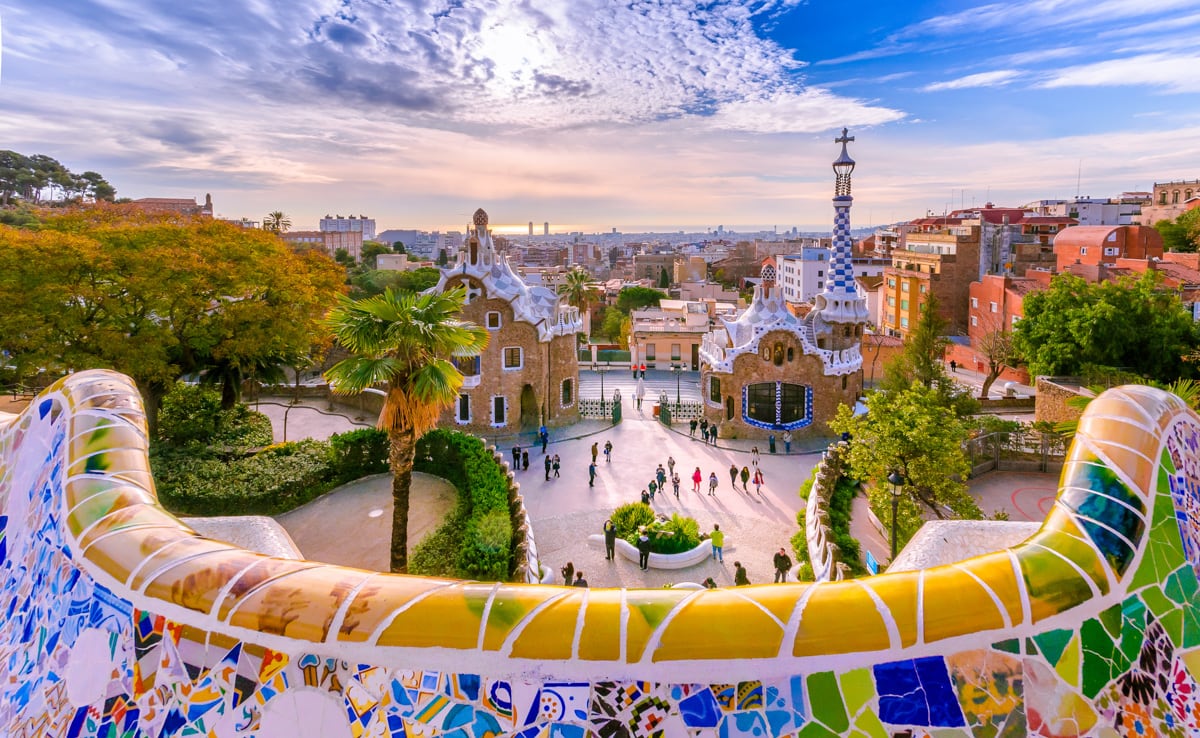 Park Guell was designed by Gaudí and boasts curvy undulating lines and forms, colorful mosaic tiles, and unique architectural masterpieces. It also houses the Gaudí House Museum.
The park is part of the Gaudi UNESCO World Heritage Site.
The colorful mosaic salamander "El Drac" at the main entrance, the mosaic bench shaped like a serpent, and the quaint "gingerbread houses" of Park Guell all make for superb photo spots.
Buy skip-the-line tickets to explore on your own. Or book a guided tour to make sure you get to all the sights of import in the park in an efficient manner.
After a guided tour, you can choose to linger in the park, to visit the Gaudi House Museum and wander some more on your own!
If you are up for the climb, you can also head uphill to the Carmel Bunkers for epic views over Barcelona. Or take a taxi from Park Guell up to the viewing area.
End your day with a food tour!
There's no better way to end your first day in iconic Barcelona than with a food and walking tour. A walking tour is our favorite way to get acclimated to a new city, and food just makes it better.
Not only will you get to wander the historic center with a local guide and sample tasty bites at several eateries, you can also get suggestions from your guide on places to eat!
This highly-rated 3-hour tour is capped at 10 participants and includes tastings of many Catalan and Spanish dishes.
You'll try different kinds of tapas and enjoy paella at an eatery by the sea. A wine tasting is included for adults.
The small size of the group allows for asking questions and conversing with your guide. And of course, you'll learn a lot about Catalan and Spanish culinary traditions and history as you walk.
Day 2 of Your 3 Days in Barcelona Itinerary
Today you'll tour the historic center, taking in many wonderful sights along the way, including more Gaudi sites and the beautiful Barcelona Cathedral.
The Gothic Quarter makes for a wonderful wander, so allow enough time to just get lost here to soak in the ambience!
Visit Casa Mila
Also known as La Pedrera, Casa Mila is one of the most unique buildings you'll come across in Barcelona and that's saying something!
Casa Mila was the last private building in Spain Gaudi designed, before turning all his attention to the Sagrada Familia.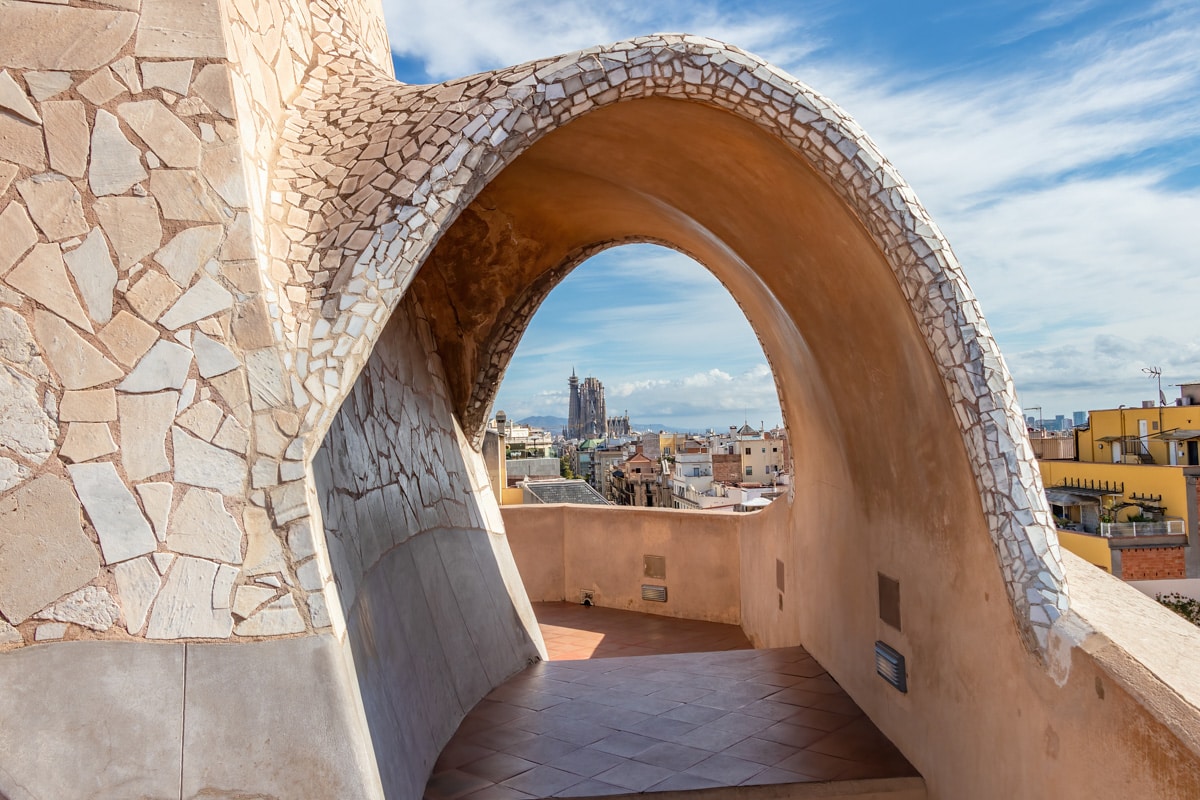 One of his most famous architectural pieces and now part of the Gaudi UNESCO World Heritage Site in Barcelona, Casa Mila is located along the beautiful Passeig de Gràcia.
Although hard to believe, Casa Mila was actually very controversial at the time and the building's design was ridiculed.
Only parts of the building are open to the public. The rooftop is a must-visit, not only for the spectacular views but also to admire the unique shapes of the chimneys.
Buy skip-the-line tickets to Casa Mila ahead of your trip. An audio guide is included.
Pro Tip: If you love chocolates, walk the few steps from Casa Mila to Xocolata Amatller for gourmet treats from the oldest chocolatier in Spain.
Admire Casa Batllo
Casa Batllo, yet another Gaudi masterpiece in Barcelona, is also located along the Passeig de Gràcia.
There was a building at the site when Gaudi was brought in, and instead of demolishing it, Gaudi redesigned it, giving it its present stunning Trencadís facade.
With oval stained glass windows at the bottom, a striking roof shaped like the back of a dragon, and many unique architectural and design elements inside, Casa Batllo is well worthy of a spot on your Barcelona itinerary.
Buy skip-the-line tickets to Casa Batllo ahead of your trip. An audio guide is included.
Have Hot Chocolate at the Faborit Casa Amatller
Just near Casa Batllo, you will find Casa Amatller, with its photogenic facade.
These two buildings, along with Casa Lleó i Morera, make up the famous "Manzana de la Discordia," showcasing the works of the three best Catalan Modernist architects.
Casa Amatller is designed by Puig i Cadafalch, and Casa Lleó i Morera by Domènech i Montaner.
While you can tour Casa Amatller, for us the irresistible attraction here is the hot chocolate in the cafe! Thick and decadent, it's a sweet treat chocoholics won't forget in a hurry.
Chocolate Amatller has been making chocolate for 225 years. You can also buy chocolates to take home.
Stroll the Plaça de Catalunya
In the heart of the city, you'll find the Plaça de Catalunya.
It's a lively square that's considered the center of Barcelona, the "meeting point" of the old city and the new (the Eixample District).
Placa de Catalunya is an excellent place to people-watch, as it's always bustling!
Enjoy being a tourist at Las Ramblas
Just along from the Placa de Catalunya, you'll come to the famous Las Ramblas, possibly the most recognizable Barcelona landmark along with the Sagrada Familia.
Walking along this tree-lined mainly pedestrian boulevard, also known as La Rambla, is undoubtedly one of the most popular things to do in Barcelona.
As you walk, be prepared for all your senses to be stimulated! Along with the many tapas restaurants, souvenir stalls, and impressive architecture, you'll find street performers, human statue art (reminiscent of Vegas!), and street vendors.
And if you want an excellent indulgence for your sweet tooth, we suggest a stop at the famous Pastisseria Escribà!
Be sure to keep your wits about you as you walk Las Ramblas. As a popular tourist attraction, it's a known haunt of pickpockets and con artists. Keep all your valuables secure and hidden away.
We suggest strolling it during the day.
Have lunch at Boqueria Market
As you wander down Las Ramblas, you'll come across the very popular (and crowded!) Boqueria Market.
Also known as La Boqueria, this is the most famous market in Barcelona and is known for its fresh produce. Be sure to get some fresh-squeezed juice to sip as you walk the market.
Gawk at the colorful stalls: you'll find butchers, bakers, fishmongers, and fruit and vegetable stalls to browse. You'll also find plenty of bars and eateries.
La Boqueria is a great place to have lunch if you can brave the crowds, because you'll find great local dishes, prepared with fresh ingredients.
Look for Pinotxo Bar, which is known for its tasty tapas, breakfast pastries, and classic skewers. At El Quim, you must try the wild mushrooms and fried eggs. Bar Central is another topnotch option for tapas.
Admire Palau Güell
Next on your 3 days in Barcelona itinerary is Palau Güell, yet another of Gaudí's designs and in fact, one of his first major projects.
While it's not as popular as Casa Mila or Casa Battlo, the discerning visitor will find plenty to admire here.
Palau Güell was built between 1886-1888 for businessman Eusebi Güell and it features one of the more unique interiors in the city.
The design is centered around the main reception room used to entertain guests, but all of the interior is exceptional. Be sure to visit the basement, where the stables were located, and the rooftop with its panoramic views.
Part of the Gaudi UNESCO World Heritage Site, the palace has Gaudi's signature chimneys, along with ornate elements in stone, wrought iron, and stained glass.
You can buy tickets at the official website ahead of your visit.
Visit the Barcelona Cathedral
Step inside the Gothic Barcelona Cathedral, which features stunning architecture, beautiful stained glass windows, and decorated chapels inside. Although not as famous as the Sagrada Familia, it's arguably just as beautiful.
Also known as The Cathedral of the Holy Cross and Saint Eulalia, the cathedral was completed in 1448. The neo-Gothic facade is, however, much newer.
If the rooftop is open, go up for expansive views over the city, and look for the white geese in the cloisters.
The plaza outside is a lively place, with street performers, folk dancers, and sometimes even a flea market. Be wary of people with white make-up asking to take pictures with you…they'll demand a fee right after!
There is a fee to enter, and you can buy tickets ahead of your visit. Check hours on the official website before you go.
Wander the Gothic Quarter
The Gothic Quarter (also known as Barri Gòtic) is one of the most charming neighborhoods in Barcelona.
Full of narrow winding streets, historic landmarks, and picturesque patios, it's one of the best places to explore by foot. You'll want to stop every few yards to take photos!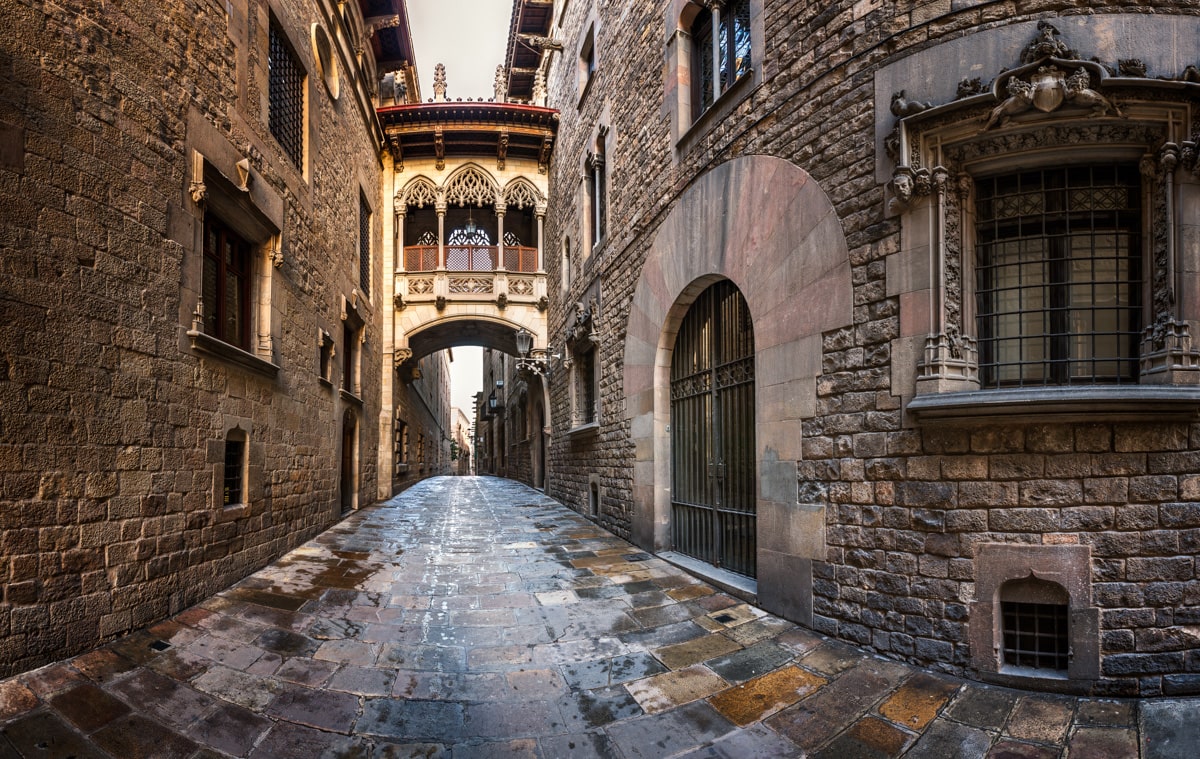 This area of the city is home to some of Barcelona's oldest buildings and actually includes the remnants of a Roman village.
As you wander around you'll get to listen to street musicians and watch the locals go about their everyday life, making it a very pleasant experience.
You'll also want to spend some time exploring El Call, the Jewish Quarter! Many Jews lived in Barcelona during medieval times, until they were expelled by the Catholic rulers in the 15th century.
In El Call, you'll find one of the oldest synagogues in Europe.
Tour the Palau de la Musica Catalana
There are plenty of 'iconic' tourist attractions within the city, but sometimes as travelers, we're just after a unique experience. If that's the case, look no further than Palau de la Música Catalana.
It's a concert hall that's been designed in the Catalan Art Nouveau style and is so impressive that it's been designated a UNESCO World Heritage Site.
Designed by the modernist architect Lluís Domènech i Montaner, who is also the architect behind the Recinte Modernista de Sant Pau, this architectural jewel is a must-tour, whether you opt for a self-guided tour or a guided one.
Or plan to attend a performance in the stunning concert hall! Music concerts, and other performances, including flamenco, are on the calendar throughout the year.
Enjoy drinks at a rooftop bar + Dinner
You can't visit Barcelona without relaxing over a drink at a rooftop bar!
Skybar at the Grand Hotel Central is just a short walk from the Palau de la Música Catalana and offers spectacular views over Barcelona, all the way to the Mediterranean Sea.
The cocktails at Skybar are amazing, and you can enjoy tasty Spanish bites with your drinks.
Reserve ahead of time if you plan to dine here, else head to Capet, just a short walk over, for a delectable dinner. The restaurant offers perfectly prepared Mediterranean and Spanish fare, and their wine list is extensive.
Day 3 of your Barcelona Itinerary
Today you have the option of continuing to explore more sights in Barcelona, or opting for one of the many day trips from Barcelona you can take.
We've described a day of more sightseeing in Barcelona, and then some additional options if you want to do something different.
Stroll El Born
To start your third day of this Barcelona itinerary, you'll want to explore the trendy neighborhood of El Born. This popular area is home to some of the city's oldest buildings, and yet still manages to offer an artsy vibe.
Boasting a wide variety of attractions, quaint cafes, and plenty of nightlife options, El Born makes for a wonderful wander.
Step inside the Basilica of Santa Maria del Mar if it's open when you are here. The beautiful Gothic cathedral is free to visit in the morning, and the rooftop views are captivating.
Get churros and chocolate to go at Churrería Laietana, and enjoy them at your next destination for the day!
Snap a Photo of the Arc de Triomf
The more famous Arc de Triomphe may be located in the city of Paris, but Barcelona has its very own monument.
Built as an entrance for the 1888 Universal Exhibition, the city's Arc de Triomf is built with red brick. The monument is decorated with motifs in the neo-Mudéjar style.
Located at the end of Passeig Lluís Companys, the arch just a short walk from Parc de la Ciutadella, so be sure to stop to snap some photos!
Stroll the Parc de la Ciutadella
Covering 75 acres, the Parc de la Ciutedella is a beautiful green space in the heart of the city, perfect for a brief morning stroll.
The park is home to a wide variety of birdlife and plant species. It's a great spot for escaping the city's hustle and bustle!
Admire the lovely facade of the Castle of the Three Dragons and the building that houses the Parliament of Catalonia, and snap a photo of the Cascada, the pretty fountain in the north of the park.
Tour the Chocolate Museum
If you're a fan of chocolate (who isn't!) then you need to include this museum in your 3-day Barcelona itinerary!
Also known as Museu de la Xocolata, this private museum will teach you everything you need to know about the origins of this sweet treat. You'll learn about chocolate traditions, its medicinal properties, and how it reached Europe.
Not only can you tour the museum, but they sometimes offer events and workshops here for both children and adults. So before your stay, make sure you check the official website to see if there's anything on during your trip.
And of course, be sure to stop by the museum shop to purchase some chocolate!
Visit the Picasso Museum
Fans of Pablo Picasso will definitely want to allow time on their Barcelona itinerary for the Picasso Museum, which houses many of the artist's works from his early years.
The Picasso Museum has a permanent collection of over 4,000 works of Picasso, and pieces from the collection are displayed across three levels. The museum also has temporary exhibits.
Look for Science and Charity, painted by Picasso when he was only 15!
While the art is a must-browse to learn about Picasso's evolution as a renowned artist, the building in which the museum is housed is also lovely.
Art enthusiasts can book a skip-the-line guided tour that includes tickets.
Head up to Montjuïc
Have lunch in El Born before making your way up to Montjuïc for the afternoon and evening.
Try Els 4Gats, a historic cafe frequented by the likes of Picasso. It serves well-made Catalan cuisine.
Or Ten's Tapas Restaurant, helmed by a Michelin-star chef.
To get to Montjuic, take the bus, or the metro to the Paral-lel station, where you can catch the funicular to Montjuic.
Take in the Views from Montjuïc Castle
In Montjuic, start with a visit to the majestic Montjuic Castle. You can catch the Telefèric de Montjuïc cable car at Avinguda de Miramar, where the funicular will drop you.
The cable car ride is very scenic, so stay ready to snap photos as you ascend! And on the way back, alight at the Mirador de l'Alcalde, where you can enjoy the gardens and views before walking down to the Parc de Montjuic.
Montjuïc Castle is located right on the summit of Montjuïc Mountain and was completed in 1640.
Over the years, this castle has survived many historic events, although the first fort had to be remodeled in the 1700s after the original structure was extensively damaged during the War of the Spanish Succession.
With imposing fortress walls, lush gardens, and a cool visitor center, there's so much to do at Montjuïc Castle. But it's not just the castle that commands attention, as the city views from here will take your breath away.
From the fortress, you'll be treated to panoramic views of Barcelona, including the city, harbor, and Mount Tibidabo.
Visit the Joan Miro Foundation
One of the top attractions in the Parc de Montjuic, the Joan Miro Foundation is a must-visit for modern art enthusiasts.
Joan Miro initiated the foundation and donated many of his works to it, along with works that he'd received and collected over the years. Today, there are over 10,000 pieces at this museum, so there's a lot to see.
One of the highlights of the structure has to be the rooftop area, which is home to colorful sculptures and offers awesome views of Barcelona's skyline.
Stroll the Botanical Gardens
The Barcelona Botanical Garden, a beautiful green space in the Parc de Montjuic, makes for a lovely wander.
There are five geographical areas in the garden to explore: Australia, California, Chile, South Africa, and the Mediterranean Basin.
The gardens also contain some permanent plant exhibitions you can browse.
Snap photos at the Olympic Ring
A group of buildings restored for the 1992 Summer Olympics, this area of the Parc de Montjuic is beautifully landscaped, with many water features and architectural elements.
Walk around and snap a few photos!
Enjoy Spanish Culture at the Poble Espanyol
This Spanish Village in the park is a fun place to visit, with arts and crafts shops to browse and some bars and restaurants if you want to have a drink or a bite to eat.
The people watching here is great, and you may also catch a street performance or two.
Tour the Museu Nacional d'Art de Catalunya
If you're a big art fan, then you'll also want to visit Museu Nacional d'Art de Catalunya. Often referred to as MNAC, it's the largest museum in Barcelona as it features over 260,000 art pieces.
You'll generally find a variety of exhibitions on offer, including modern art, Renaissance and Baroque pieces, and Romanesque murals. There are some Gaudi works here as well.
Even if you do not go in, stop to take in the great views of Barcelona from the steps.
See the Light Show at the Magic Fountain
The Magic Fountain of Montjuïc is one of Barcelona's most popular attractions and the perfect way to cap your sightseeing on your final evening in the city.
Although this fountain was originally built for the 1929 Universal Exhibition, it still attracts millions of visitors. The reason for this?
The fountain is nice by day, but you'll want to stay until the evening for the best experience. After dark, you'll get to watch a 20-minute sound-and-light show.
During this show, over 3,000 jets spray water up in the air with the highest water spout reaching a height of around 52 meters (170 feet)!
Watching the Magic Fountain light and sound show is definitely one of the best things to do in Barcelona in 3 days, just now that it's super popular and expect crowds.
Just keep in mind that during periods of drought in Spain, it's likely that the Magic Fountain won't be active.
With more Time in Barcelona…
If you have another day or two in Barcelona, there's more to see and do in the city. You can also swap some of the activities we've described above in our 3 day Barcelona travel guide for some beach time or another activity we detail below!
Plus, if you plan to spend a few days in the city, you may want to build in a day trip or two, to explore Catalonia beyond Barcelona.
catch some Sun at Barceloneta Beach
Barceloneta Beach is the most popular beach in the city and offers golden sands and gorgeous blue waters. Whether you're looking to sunbathe or take a dip, it's the perfect spot in Barcelona.
The beach is located in the fishing district of the same name, so you have to try some seafood dishes while you are here! Try Xiringuito Escribà​​ for paella or tapas, or Pez Vela, in the W Hotel.
Barceloneta Beach offers showers, restrooms, loungers and beach umbrellas, and children's play areas, so it's a great place to go if you are visiting Barcelona as a family in the warmer months of the year.
Enjoy a Boat Tour
Enjoy the Barcelona skyline from the water with a boat tour! Both day and sunset tours are offered.
The waterfront is a lively place to stroll before or after your boat tour, with lots of boats, sleek yachts, and cruise ships in the harbor, and eateries and shops to browse.
This sunset catamaran cruise lasts around 1.5 hours and you can buy drinks and snacks on board. There are nets at the front of the boat where you can relax, and the music is highly rated too!
Have Paella at Xiringuito Escriba
Foodies will want to make reservations for dinner at Xiringuito Escriba, a waterfront restaurant that serves up delicious seafood dishes.
Founded by Joan Escriba, this restaurant routinely makes lists of the best restaurants in Barcelona. Make reservations ahead of time, because it is usually packed.
You have to try the paella, of course, but they also have a variety of tapas. And leave room for dessert!
Visit Mount Tibidabo
If you have more time in Barcelona, include Mount Tibidabo on your Barcelona itinerary. It's a famous hill that overlooks the city so naturally, you'll get breathtaking views.
Be sure to visit the iconic Templo Expiatorio del Sagrado Corazon (also known as the Temple of the Sacred Heart of Jesus).
The exterior of the church is striking, but just wait until you see the stained-glass windows and colorful murals inside. You can also take a lift to the top of the church for more incredible views!
Next door, you'll find one of the oldest amusement parks in the world, a fun place to consider if you are spending 3 days in Barcelona with kids.
To reach Mount Tibidabo, you can either hike up from the city center (which can take around 2 hours) or you can take the Tibibus, a special service from the Plaça de Catalunya to the amusement park. You can also arrive by a combination of train, tram and funicular.
Tour camp Nou
This one is for the football lovers out there! Barcelona Stadium (more famously known as Camp Nou) is home to FC Barcelona, one of the most successful football clubs in the world.
The stadium has been around since 1957 and the best way to experience it (apart from going to a game) is by taking a tour. There are several tours from which to choose, with the basic tour being the cheapest option.
The basic tour includes visiting the second stand, the trophy cabinet, and the interactive room. You'll also get a panoramic view of the stadium so make sure you have your camera ready.
If you're in the city while FC Barcelona are playing then definitely try to get tickets! Watching a game here is a fantastic experience.
Take a Day Trip to Montserrat
Montserrat is one of the most popular day trips from Barcelona. Montserrat, which means "serrated mountain" refers to a dramatic jagged mountain range not too far from the city.
While the natural landscape is reason enough in itself to visit, the mountain is also home to the stunning Montserrat Monastery, a Benedictine abbey that dates back to the 9th century.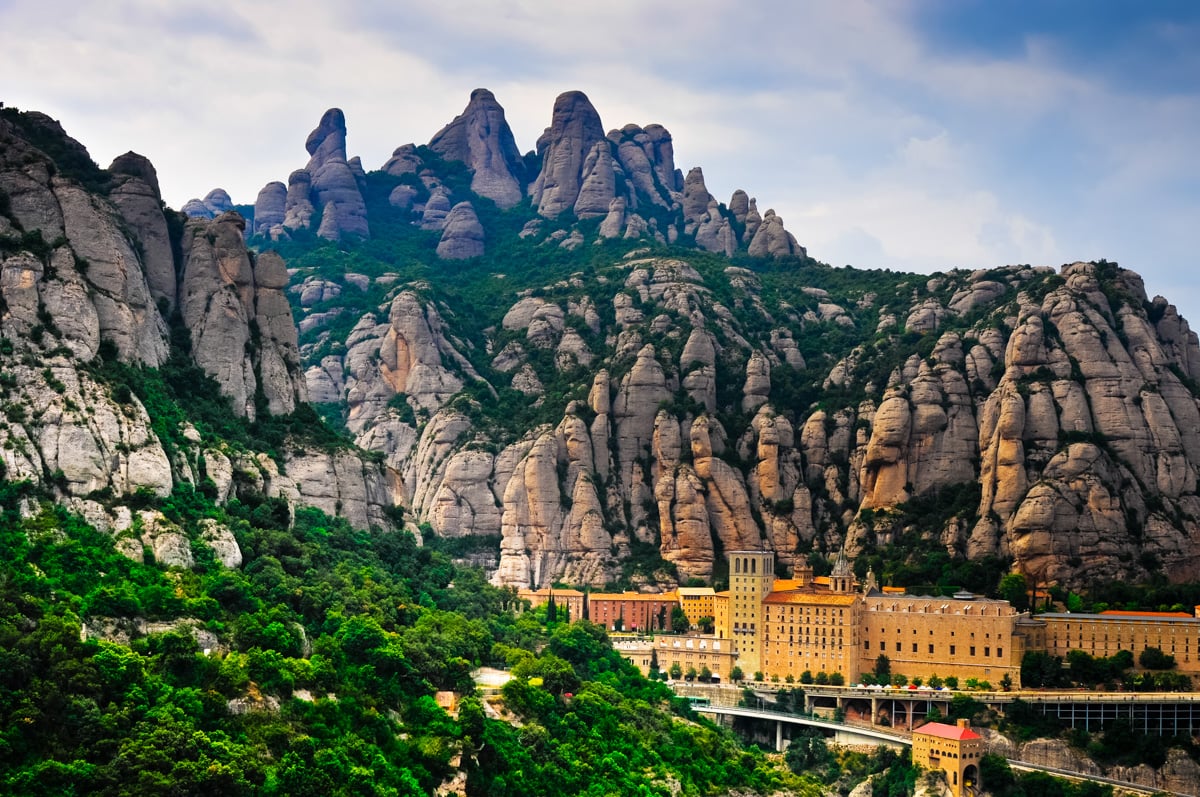 The basilica here is home to a rare Black Madonna, and if you time your visit right, you'll also get to hear the famous Boys' Choir.
A guided tour is a hassle-free way to visit, with both half-day and full-day tour options. You can also arrive by train to the bottom of the mountain, and take the rack railway or the cable car to the top.
This highly-rated tour has a half-day at the mountain and monastery with the option to make it a full day, with lunch and a winery visit for a tasting. You'll travel by air-conditioned bus, and the cogwheel train ticket is included.
Visit Girona for the Day
Another popular day trip from Barcelona is to the beautiful historic city of Girona. You can also combine Girona with a tour of the Dali Museum in Figueres.
On a day trip to Girona, you'll want to walk the city walls, wander the historic quarter, snap photos of "the hanging houses" from the bridges over the Onyar River, and admire the bridge designed by Gustav Eiffel of Eiffel Tower fame.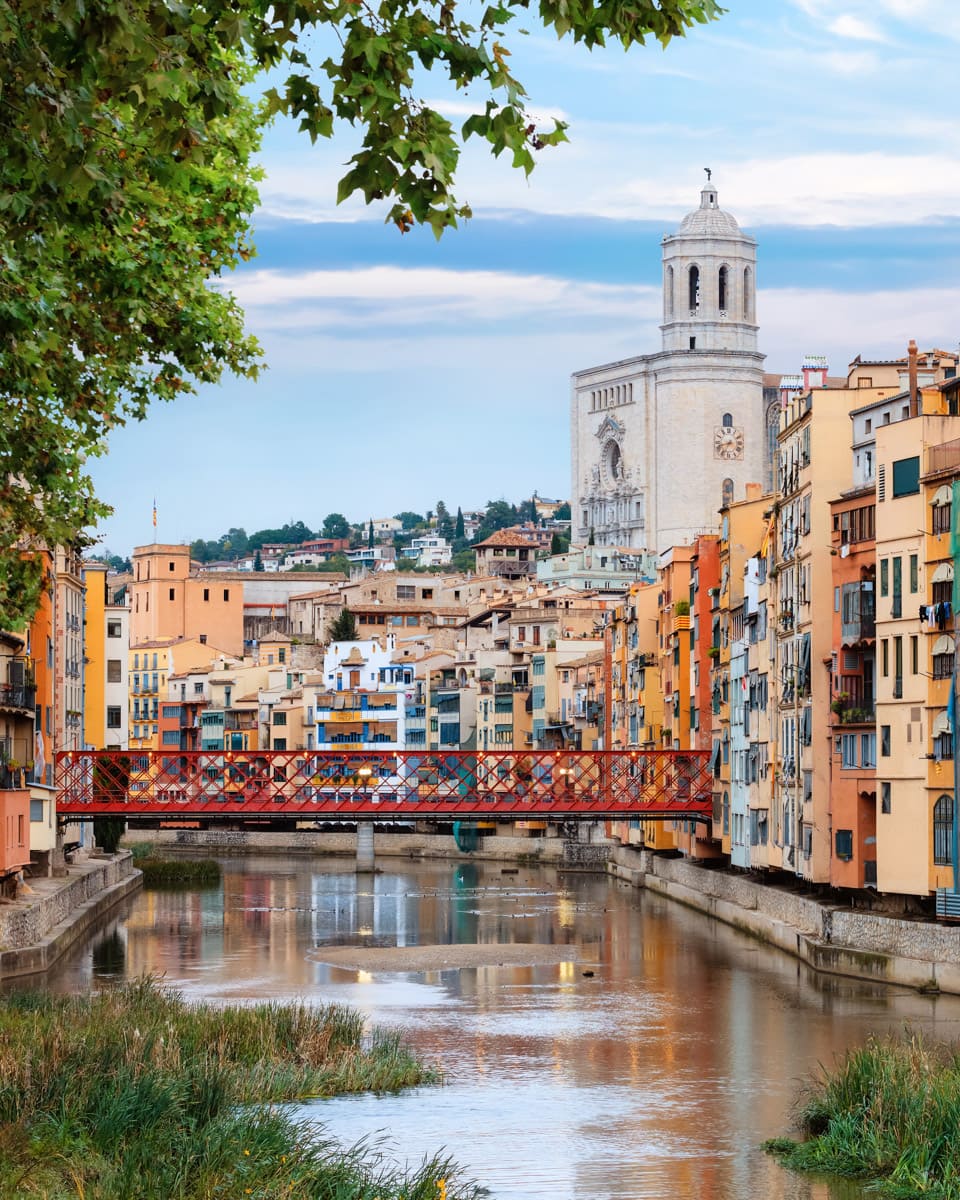 Fans of Game of Thrones will find several filming spots in Girona, and foodies will want to reserve ahead at one of the many top eateries in the city.
You can rent a car and drive along the picturesque Costa Brava to Girona, or you can arrive by fast train, or take a guided tour.
This highly-rated tour takes 11.5 hours, and includes guided walking tours of Girona and the renowned Dali Museum in Figueres, with time to explore Figueres on your own.
Book a guided tour of Girona and the Dali Museum in Figueres now!
Or you can opt for this popular guided tour of Girona and the Costa Brava.
Getting to Barcelona
For travelers from the US, Barcelona is a popular place to fly into and out of Spain.
Barcelona-El Prat Airport is the major international airport that serves the city.
Barcelona is also well-connected by train to many other cities within Spain. You can also arrive by train from France.
The city is also served by an inter-city coach system, and, of course, you can drive to Barcelona if you are on a road trip.
Barcelona is also one of the most popular cruise ports on the Mediterranean, so you can arrive by cruise ship as well.
Barcelona-El Prat Airport is 16 kilometers ( just under 10 miles) south of the city center.
If you have lots of bags, you can arrange for a private transfer or take a taxi.
A pre-arranged transfer allows you to get a rate in advance, and an English-speaking driver should you need one, as well as flight monitoring for possible delays.
If you are traveling light, you can opt for the train or the metro, or take the Aerobus into the city center.
The train, run by Renfe, departs from Terminal 2, and stops at Estació Sants and Passeig de Gràcia in the city center.
There are metro stations at the airport at Terminals 1 and 2. You may have to transfer to get to your final destination.
The Aerobus connects Terminals 1 and 2 at Barcelona Airport with the Placa de Catalunya and has three stops en route. The bus runs everyday, with frequent departures, and the journey takes about 35 minutes each way.
From the cruise ship ports, take a taxi or the Portbus shuttle into the city center.
From the Sants train station in Barcelona, take a taxi, a suburban train, or the metro into the city center.
Getting Around in Barcelona
If you stay in the historic center (which we suggest you do!), most major sights are within walking distance. We've organized the itinerary above such that sights for each day are close to one another.
If you are looking for other transport options, Barcelona offers a variety of convenient ways to get around the city.
You can rent bikes (the city has many miles of bike lanes), or take the metro, taxi, bus, or local/suburban trains. We suggest the metro, to avoid getting caught in traffic snarls.
While you can drive, we suggest parking your car and using public transport for destinations you can't reach easily on foot. Traffic in the city can be insane.
Get a public transport travel card that allows for unlimited use of public transport options for the time you are in the city — 48, 72, 96, or 120 hours.
You also have the option of using the Barcelona Hop On, Hop Off buses: there are two routes, red and blue, that operate everyday except January 1 and December 25. You can choose a 1-day or 2-day option.
Where to Stay in Barcelona
Eixample, Barri Gòtic, and El Born are the most convenient neighborhoods in Barcelona from a sightseeing perspective, but they can be pricey. If you do not mind being a bit further out, Gràcia is also worth considering!
Luxury Hotels in Barcelona
Mercer Hotel Barcelona is located in the historic Gothic Quarter, in a restored ancient building next to the Roman walls. Talk about ambience!
The hotel features a rooftop swimming pool, bar, and terrace, and an interior courtyard with orange trees, reminiscent of Andalusia. Rooms feature exposed brick walls and wood beams in the ceilings. Decor is elegant.
Check rates and availability now!
Mandarin Oriental, located along the fashionable Passeig de Gràcia, is a 5-minute walk from Gaudi's Casa Batlló and La Pedrera. Spacious rooms feature a light and bright minimalist decor, with a separate sitting area.
The hotel offers a spa with a hot tub and hammam, a rooftop pool, and an indoor pool. There's a rooftop terrace bar for evening cocktails.
Check rates and availability now!
Hotel El Palace Barcelona is located in Eixample, close to major sights. The hotel features a neo-classical façade, and offers elegant and spacious air-conditioned rooms with classic decor.
The hotel features a Mayan-style luxury spa, and two restaurants, one of which is on the rooftop terrace.
Check rates and availability now!
Mid-Range Hotels in Barcelona
Gran Hotel Barcino is located in the heart of the Gothic Quarter, a short walk from Las Ramblas and the Barcelona Cathedral, and surrounded by excellent shopping and restaurants.
Air-conditioned rooms are spacious and feature traditional decor, with marble floors.
Check rates and availability now!
Praktik Rambla is located on the tree-lined Rambla Catalunya. The boutique property is housed in a spectacular 19th century palace, with Baroque-style columns and ceramic floors.
Air-conditioned rooms feature chic minimalist design and a terrace for relaxing.
Check rates and availability now!
Sonder La Casa del Sol is a 10-minute walk from La Pedrera. Located in Gracia, the hotel is close to numerous bars, cafes, and restaurants, yet it isn't noisy.
Air-conditioned rooms come with private balconies, and modern decor. The hotel offers a lovely sun terrace with a water feature.
Check rates and availability now!
Chic & Basic Born Boutique Hotel is located close to the Picasso Museum. The Modernist-style building offers high ceilings, large windows, and beautiful marble staircases.
Air-conditioned rooms are equipped with colorful LED lighting and a glass shower cubicle in the center of the room. Beds are rated very comfy!
Check rates and availability now!
The Best Time to Visit Barcelona
Barcelona is the most visited city in Spain, and it's unlikely you'll find it uncrowded at any time of the year, so plan your 3 days in Barcelona itinerary for the best time of year from a weather perspective.
You'll find the best weather in late spring — think May and June. Daytime temperatures are in the low to mid 70s Fahrenheit (about 20 degrees Celsius), perfect for wandering outdoors.
Later fall also offers reasonably pleasant temperatures, and winters are relatively mild. Winter may be a good time to visit for lower crowds if beach time isn't super high on your list. Pack layers!
Summers in Barcelona tend to be humid and hot, so if you are planning a summer trip, build in plenty of beach time and indoor activities for the middle of the day.
Early spring tends to be rainy, so if you must visit at this time, be sure to pack rain gear and plan on indoor activities as back-up if you get rained out.
Barcelona celebrates a number of festivals through the year, which include Carnival in February/March, the Primavera Sound Festival in May/June, Saint Joan Eve in June (lots of fireworks!), and many music festivals through the summer.
Getting the Go City Barcelona All-Inclusive or Explorer Pass
If you are planning to include many fee-based attractions on your Barcelona itinerary, you may want to see if the Go City Barcelona All-Inclusive or Explorer pass makes sense for you.
The Go City Barcelona All-Inclusive Pass has a 3-day option (along with 2, 4, or 5 day options) and you can visit as many included attractions as you like during the validity of the card.
Many top attractions, like La Sagrada Familia, Park Guell, Casa Battlo, Camp Nou, and the Picasso Museum are included and you will likely save money!
Check pricing and availability on the Go City Barcelona All-Inclusive Pass now!
The Go City Barcelona Explorer Pass lets you choose 2, 3, 4, 5, 6, or 7 of Barcelona's top attractions, and a 60-day validity period. We prefer the All-Inclusive, but the Explorer may be a good option if you have a number of top sights planned.
Check pricing and availability on the Go City Barcelona Explorer Pass now!
Frequently Asked Questions
1. Is 3 days enough for Barcelona?

Three days in Barcelona will allow you to sample a good number of the city's many attractions. In 3 days in Barcelona, you can see many of the major sights, including some of Gaudi's famous works, wander the atmospheric Gothic Quarter, stroll Las Ramblas, visit a market or two, and sample Catalan cuisine.
2. How many days in Barcelona is enough?

To really do justice to the exciting city of Barcelona, you should consider spending a week here, because there is so much to see and do in Barcelona, from landmarks and vibrant neighborhoods to beaches and rooftop bars. But if you have fewer days to spend, you can still take in a good number of sights because the historic center is compact.
3. Is Barcelona a walkable city?

Yes, the historic core of Barcelona is fairly compact and many major sights are within walking distance of one another. If you prefer not to walk, the city has an excellent public transport network, with the metro a very convenient option for getting from place to place.
4. What is the best month to go to Barcelona?

From a weather perspective, May or early June is a great time to visit Barcelona, with daytime temperatures perfect for exploring outdoors. October or early November is also a good time from a weather standpoint.
MORE SPAIN TRAVEL INSPIRATION
Planning a trip to Spain? Check out our 10 days in Spain itinerary, especially geared toward first-time visitors to the country.
If you are considering a return visit to the country, we also have a write-up of the best places to visit in Spain, and the best Spain road trips to consider.
If you plan to visit Madrid (and we think you should!), check out our 3 days in Madrid itinerary. We also have a round-up of the easiest and best day trips from Madrid.
If you are planning a trip to Southern Spain, we have a detailed itinerary for Andalusia you'll want to check out! The in-depth itinerary includes Seville, Granada, Malaga, Ronda, and Cordoba.
Many visitors have the Alhambra of Granada at the top of their Spain bucket list. And no wonder! Exploring the breathtaking Nasrid Palaces and Generalife Gardens at the Alhambra are among the best things to do in Granada.
Seville is one of our favorite destinations in Spain. Read our 3 days in Seville itinerary if you are planning your first trip, or our one day in Seville travel guide if your visit will be a quick one.
We also have an article on the best things to do in Seville, as well as a guide to Seville in winter.
Also be sure to peruse our in-depth guide to the Real Alcazar of Seville, one of the top monuments to visit in Andalusia.
Check out our round-up of the most compelling day trips from Seville, as well as our comprehensive guide to planning a day trip from Seville to Cordoba.
If you are trying to decide whether to visit Granada or Seville, we think you should allow for enough time to visit both! But we have an article to help you choose if you only have time for one or the other.
Visiting the Mezquita is only one of the many wonderful things to do in Cordoba, which served as a filming location for Game of Thrones.
Ronda is one of the most picturesque white villages in Spain, and our one day in Ronda guide describes all the best things to do in the hilltop city. Another Andalusian pueblo blanco to consider is gorgeous Casares.
You can visit both Ronda and Casares on day trips from Malaga, the Andalusian city located on Spain's Costa del Sol. There are many exciting things to do in Malaga as well.
Did you find this article informative? Pin it for later reference!