My husband and I love good gelato!
Before we left for our first trip to Italy, I did a ton of research on the best places to eat gelato in the towns and cities on our itinerary. Some of that research came in very handy, as we were able to pop into a recommended gelateria when we were in the vicinity. Other times we asked at our hotel or at the tourist information centers for recommendations, and in a couple of places we just tried a place where the gelato passed our visual tests, and were delighted with our choices.
Just like not every pizzeria in Italy serves excellent pizza, not every gelateria in Italy has the good stuff. Stay away from bright-colored gelato: it often means additives and artificial colors and flavors. The best pistachio gelato, for example, will look a faded olive green-beige, just like the nut, not a bright green. Similarly, if the gelato is piled high in puffy cloud-like masses, it's probably mass-produced and likely not fresh. And gelaterias located in tourist hot-spots and frequented less by locals and more by tourists should pass the visual tests described above before you try the gelato: some of the best gelaterias in Florence and Rome are in tourist-heavy areas. What you are looking for is real gelato artigianale…fresh, natural and made from quality ingredients in season. Some, but not all, the gelaterias we tried stored their gelato in small closed stainless steel bins.
So here's my list of top ten gelato places!
Venice: Grom
Grom is a gelato chain, with outlets in many places in Italy, including Venice, Florence and Rome, as well as in many other places worldwide. But the fact that it's a chain doesn't take away from the deliciousness factor of Grom's gelato offerings. It was the first gelato we tried in Italy, the day after we landed, and after the first taste, my husband and I were grinning at each other at the prospect of three weeks of this heaven. Grom's gelato is made from quality, fresh ingredients and it's one of the gelaterias where the gelato is stored in stainless steel containers to keep it perfect.
There weren't a huge array of flavors, which is another sign of a gelateria that values quality. The chocolate gelato, made with Peruvian chocolate, was to-die-for good, as was the Nocciola (hazelnut). The hazelnut is apparently used as a barometer for how good a gelateria is: it is the most expensive of all flavors to make, so a gelateria offering a powerful hazelnut-only gelato is considered upscale.
Corniglia (Cinque Terre): Alberto
Climbing the 350+ steps from the train station to the village of Corniglia, perched high on the cliffs above the Ligurian Sea, seemed like a negligible price to pay for the yum gelato we had at Alberto. This little shop offers flavors that include some locally produced ingredients such as basil, lemon, and honey. I had one scoop of the basil and one of the honey and both were delicious. I could see flecks of basil leaf in the basil gelato, and the flavor and aroma of basil were assertive. We had a taste of the lemon as well, and it had a lovely fruity lemon flavor. By the way, in some gelaterias, they sell a small "taste-sized" scoop for a Euro, and if we had already had a lot of gelato we would sometimes sneak in one or two of these tiny scoops if we just could not pass by a gelateria that looked good, or to taste another flavor more than just on a spoon.
My husband had the Nutella (he is a chocolate/cocoa addict) and he thought it was so good that he went back for seconds before we started our trek down to the train station.
Florence: Vivoli
Florence has some of the best gelaterias on the planet, and Vivoli always makes the cut when the best gelaterias of Florence are listed. Our bed and breakfast in Florence was in the Santa Croce district, so we made more than one stop at Vivoli during our three plus days in the city.
Vivoli has been around forever (well, since, 1930), and their gelato is so delicious that I am not one bit surprised by their longevity and continued popularity. I had the orange peel flavor and the ginger flavor at our first visit to Vivoli, and I was amazed by how much of those ingredients I could taste in my scoops. The orange was powerful both in aroma from the oil and that faint bitterness that comes with citrus peel, and I could taste bits of ginger in the ginger gelato. On another visit I had the pistachio, and my husband had one of their chocolate flavors. Every flavor we had here was intensely representative of the ingredient in its natural form, which is the best compliment you can give to a gelateria.
Florence: Perchè no!
Situated in the thick of tourist sights in Florence and just a five-minute walk from the Duomo, Perchè no! is a must-visit gelateria. First, with a name like "Why not!" it's almost impossible to pass it without popping in, and second, this is another gelateria that has stood the test of time and makes every compilation of top ten gelato places in Florence.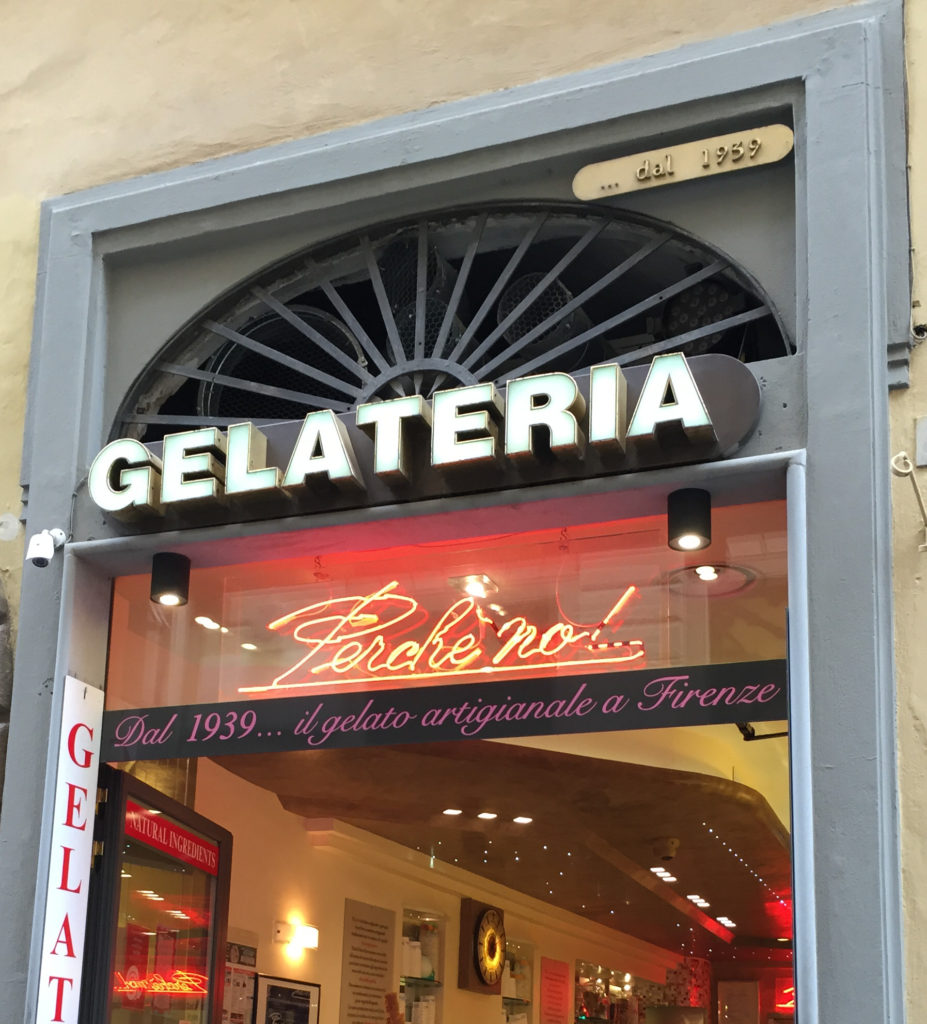 We visited twice, because they did not have the rose flavor I desperately wanted to try at our first visit. I had the riso (rice) the first time, and it was just delicious in its very simplicity. The rose was pure heaven. It had the heady aroma of Damask rose and tasted divine, even if it was a touch too sweet.
Florence: La Carraia
La Carraia is also consistently featured in lists of top gelaterias in Florence. On our last day in Florence, I had given up on being able to taste their gelato (there was just so much to see and do in Florence that we had to content ourselves with popping into gelaterias that were near where we happened to be at the time). We were on our way back to our bed and breakfast in Santa Croce from the Palazzo Pitti across the Arno, when we came upon a crowd of people with gelato cones at the bridge we were about to cross. I looked up and my heart leaped with joy when I saw the sign that said "La Carraia."
The gelato at La Carraia turned out to be just as delicious as I had been led to believe. I had the pistachio, and it was the creamiest, most decadent pistachio gelato I have ever had, period. The scoop had streaks of ground pistachio running through it, which tasted like marzipan, as well as bits of the nut. My husband loved his dark chocolate. This place is also very reasonably priced, and the scoops are generous. La Carraia was one of the places we visited that offers the taste-sized cones for one Euro each.
Florence: Gelateria dei Neri
Gelateria dei Neri is located in Santa Croce, and is a reasonably-priced gelateria with wonderful flavors, such as green tea, salted caramel, chocolate with chili pepper, orange with chocolate, and ricotta with fig. I had the rose and my husband had his usual dark chocolate, and both were delicious. If I visit again, I would love to try their green tea and salted caramel, both of which had rave reviews when I researched this gelateria online.
Florence: Carapina
Carapina is one of the more expensive gelaterias we tried, but the quality of the ingredients could not be faulted. Carapina prides itself on the purity of its ingredients and gelato-making process. The gelato is kept in closed stainless steel containers and the flavor choices are limited to a manageable number. In short, gelato artigianale at its purest best. I tried the fior di latte (sweet cream), as well as the pistachio, and both were superb. The fior di latte is another flavor that is used to discern the quality of a gelato shop, because it's difficult to hide the quality of the ingredients when it is just milk and sugar.
Rome: Fatamorgana
There are hundreds of gelateria in Rome, so it's not difficult to find a shop offering gelato artigianale no matter where you are. Fatamorgana, located on a little side street off the Via Corso near the Piazza del Popolo, was just a short walk from the apartment where we stayed in Rome. This was one we tried without having come across it when I did my research, and the gelato turned out to be some of the best we had during our entire three-week trip. The flavor combinations were awesome. Some of the creative choices: plum with green tea, grape with baklava, almond-apple-cinnamon and basil-walnut-honey. Yum!
Fatamorgana has multiple locations in Rome. This gelateria is definitely a must-visit when in Rome.
Rome: Origini
Just around the corner from the Pantheon, Origini was another one of our spontaneous gelateria choices that turned out to be awesome. It's a small shop, and had a limited choice of flavors, but the quality was superb and the gelato was rich and creamy. My husband loved his dark chocolate and I was happy with my go-to pistachio flavor. If you are in the area, and in the mood for gelato, this is the place to try!
Rome: Come Il Latte
Come Il Latte translates to "Like Milk." Along with La Carraia in Florence, Come Il Latte takes top honors for the creamiest, most decadent gelato we had in Italy. You can easily put on a pound or two from just looking at your scoop being served. But that didn't deter us from scarfing it down when we got our gelato in our greedy hands! Our excuse was that it had taken us over thirty minutes of walking before we found the place. On the map it is only a ten-minute walk from the Borghese Gallery, where we had spent the morning, but of course the navigator (yours truly) got us lost as usual and we wandered around for what seemed like ages before we eventually found the shop.
For a small fee, they drizzle dark or white chocolate along the sides of the cone and swirl it around before putting in the gelato. Yumminess at its creamiest best.
So there you have it: my list of favorite gelaterias in Italy. Do you have a list of favorites? Comment below to share your recommendations!