Vancouver ranks up there as one of my favorite city break destinations. It is that special city that offers something of interest to every type of traveler. Stunning skylines, beautiful boats, vibrant neighborhood streets and gorgeous green spaces provide tons of photo ops. If you love the outdoors, you can tackle the Grouse Grind, or walk/bike the Seawall. Foodies can sample every type of cuisine at eateries that run the gamut from upscale estabishments to hole-in-the-wall ramen shops.
Here are my top ten things to do on a first visit to Vancouver:
Take in the views from the Vancouver Lookout
Head to the Harbour Centre to take the external glass elevator 553 feet up to the observation deck of the Vancouver Lookout. The deck offers 360-degree views of the city and surroundings, with plaques to describe each view. There's a lounge where you can hang out.
I loved this view of the Lions Gate Bridge and the little Chevron gas station in the water:
This one looks out onto the beautiful skyscrapers of the city, with False Creek in the back:


And this is a view of the colorful cargo in the water:


Your paid admission is valid for the day, so get your hand stamped and return in the evening to watch the sun set behind the mountains and the lights come on all over the city. Pure magic!
If you go:
Vancouver Lookout
555 W Hastings St.
Vancouver, BC V6B 4N6
Website: http://www.vancouverlookout.com

Enjoy the waterfront at Canada Place
The Canada Place waterfront is a great place for an evening stroll. Wait in line (there's always a line!) at Bella Gelateria at the corner of Burrard and W. Cordova and get some delicious award-winning gelato to go before strolling over to the look at the sails of Canada Place, lit up in beautiful bright colors, and the lights of North Vancouver across the water.
Next to the Convention Centre, right next to the water, is the Digital Orca, a giant statue of a killer whale by Douglas Coupland. It looks like it's made of Lego blocks. Here also is the enormous Olympic Torch, sometimes lit for special events.
If you have the time, take in a showing of FlyOver Canada, a thrilling film that adds in special effects to make you feel like you are in the plane flying over Canada's beautiful scenery. Wind, mist spray and scents are added to make the experience even more "real." I loved the film, although my husband found it a little too thrilling and shut his eyes through much of it!!!
If you go:
Canada Place c/o Vancouver Fraser Port Authority
100 The Pointe, 999 Canada Place
Vancouver, B.C. Canada V6C 3T4
Website: http://www.canadaplace.ca

Walk (or bike) the Seawall
The Vancouver Seawall is a long waterfront walkway, more than 13 miles long! It's nice and wide, with a section for walkers/joggers closer to the water and another for bikers/skaters on the inside. Many sections are ridiculously scenic, particularly near English Bay and along Stanley Park. The Brockton Point Lighthouse is a great place to stop and take in views of the Lions Gate Bridge. Take a look at the Nine o'Clock gun nearby: it's still fired every night! Other popular sights along the wall are the statue of the Girl in a Wetsuit and the stunning Siwash Rock. The Wall is incredibly popular so start out early for some quiet chill time. Take plenty of water and sunscreen and enjoy the fresh air and the beautiful views! I took the photos below on the section along Stanley Park from the Totem Poles going towards Coal Harbor.
If you go:
http://vancouver.ca/parks-recreation-culture/seawall.aspx

Explore Stanley Park
A 1,001-acre public park just outside downtown, Stanley Park is a delight to explore, with more than half a million trees, many of them really really old and tall. You can watch a game of cricket on the green, wander the rose garden, marvel at the Totem Pole display at Brockton Point, take a ride on a horse-drawn carriage, or pose for a photo in the Hollow Tree. The Vancouver Aquarium is in this park, and there's also a polar bear exhibit and a miniature train. The park is huge so visit with a plan so you can comfortably complete the sections that appeal the most to you. There is a shuttle that operates in the Park, but service is reportedly sketchy and not timely, so plan on having to wait if you decide to take it.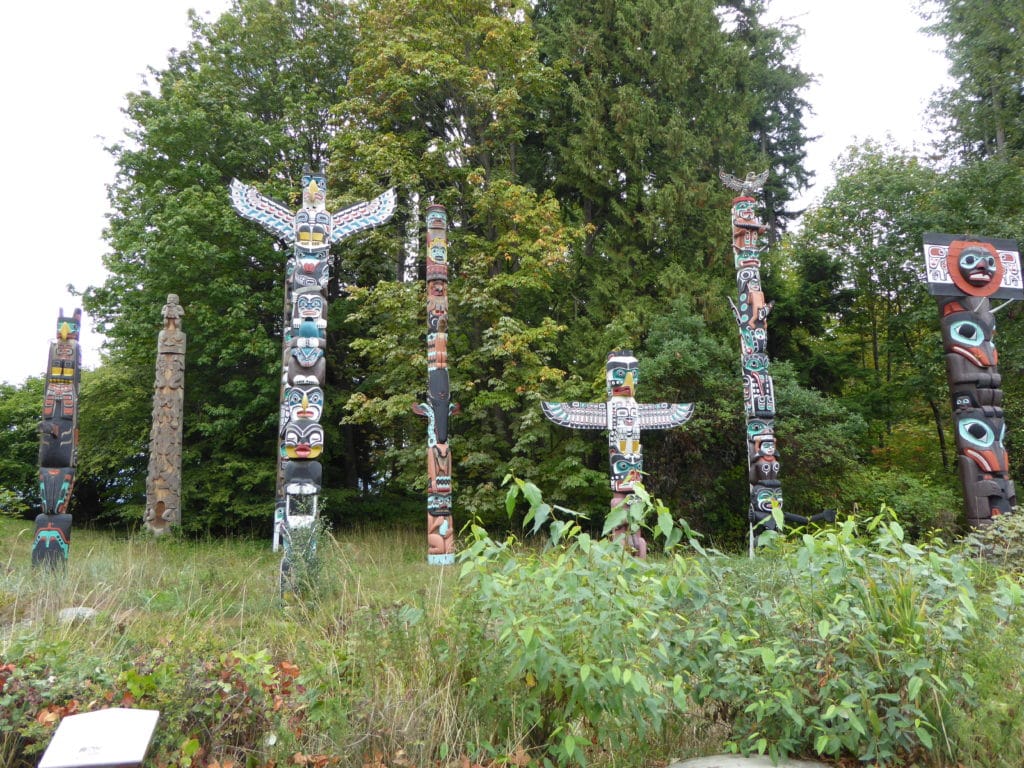 If you go:
http://vancouver.ca/parks-recreation-culture/stanley-park.aspx

See the Steam Clock in Gastown!
Gastown is a really cool neighborhood, with lots of boutique stores, art galleries, restaurants and nightclubs. It is the original settlement that eventually became Vancouver. On the corner of Cambie and Water Street is Gastown's main claim to tourist fame: a steam-powered clock that actually lets out steam and toots!
If you go:
Gastown Steam Clock
305 Water St,
Vancouver, BC V6B 1B9
You can find information on a two-hour self-guided walking tour of this historic neighborhood here:

http://vancouver.ca/home-property-development/gastown-walking-tour.aspx

Ride the Aquabus on False Creek

The Aquabus is a cute colorful water taxi that provides services along False Creek. We bought day passes and used the Aquabus to hop over from downtown to Granville Island, and later, rode it up and down False Creek to visit different spots along the shore, including Yaletown, the Olympic Village, Plaza of Nations and Science World. On a beautiful day, the Aquabus is the perfect way to capture lots of great photos of the skyscrapers along the shore, as well as the boats and bridges. This was one of the most fun parts of our visit for me.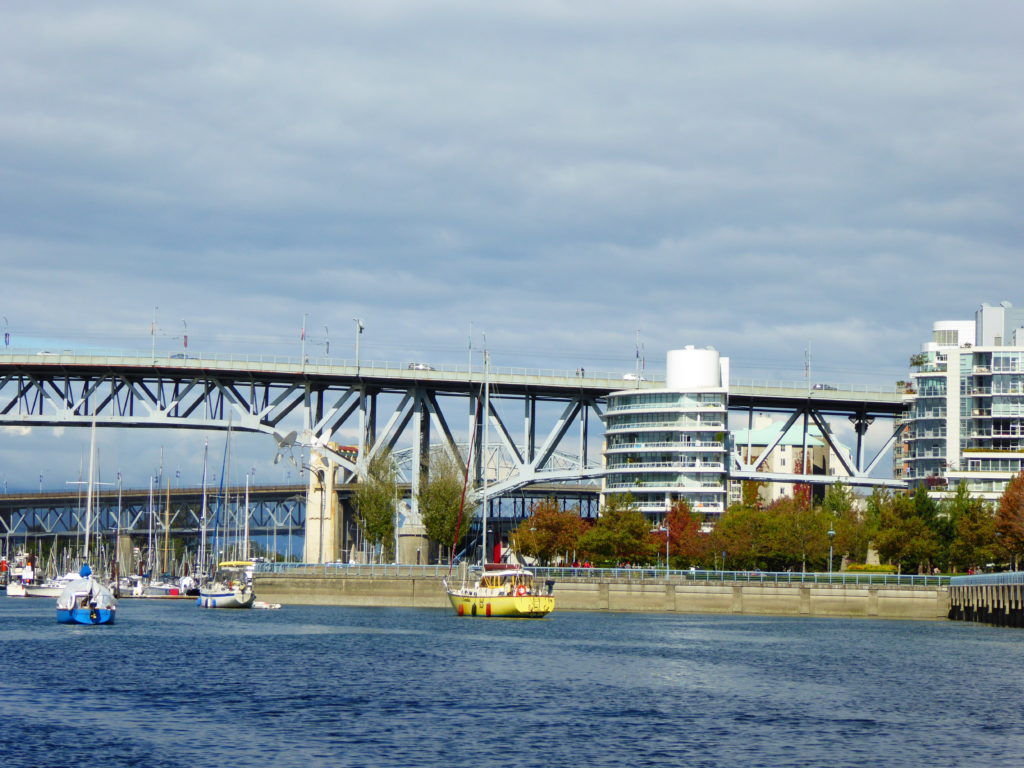 If you go: 
http://theaquabus.com/schedules-routes-and-fares/


Gorge on great eats at the Granville Island Public Market
Across False Creek from downtown Vancouver is Granville Island. You can cross over using the Aquabus or False Creek Ferries, or you can drive across the Granville Bridge. The big draw is the Public Market, but the neighborhood is fun to explore as well, with lots of art galleries, "workshop windows" that offer opportunities to watch artisans at work, street performers, and theatres. Check out Giants, a gorgeous mural on six concrete silos by Osgemeos. You can see the mural from the Sandbar, the seafood place.
Wrap up your visit to Granville Island at the Public Market, where vendors of fresh produce, flowers, meats, cheeses and other foods do roaring business. There are tons of food and drink options in the market. We saw soups, Mexican food, curries, seafood, and juice and coffee places. We got delicious scones and foccacias at Terra Breads, and sat outside to eat and watch the boats. Be mindful of aggressive seagulls if you sit outside!
If you go:
Granville Island Public Market
1669 Johnston St,
Vancouver, BC V6H 3R9, Canada
Granville Island website:
http://granvilleisland.com/plan-your-visit

Experience immersive science at Science World
Science World at Telus World of Science is located at the end of False Creek. The geodesic dome is stunning both in the day and at night, when it is lit up. The museum of science, technology and natural history is fun for everyone, with lots of interactive/hands-on exhibits and an Imax theatre. We loved the Illusions gallery, which has optical illusions and effects, and Eureka, where you can explore the science of water, light and sound, among other things.
If you go:
Science World Telus World of Science
1455 Quebec St,
Vancouver, BC V6A 3Z7, Canada
https://www.scienceworld.ca/

Visit the Botanical Garden
Vancouver's VanDusen Botanical Garden is beautiful any time of year. Be sure to visit the cool Elizabethan maze, made out of 3,000 pyramidal cedars; it will keep you occupied for a while. A stone garden, a rose garden, the Japanese maples area and a Korean Pavilion are other beautiful features worth exploring. The gardens cover 55 acres and there's a lot to see so plan on spending a few hours. I highly recommend a guided tour with a volunteer: we took one in a motorized golf cart and received lots of interesting information on the plants as well as the history of the gardens. Guided tours are also offered on foot.
If you go:
VanDusen Botanical Garden
5251 Oak St,
Vancouver, BC V6M 4H1, Canada
http://vancouver.ca/parks-recreation-culture/vandusen-botanical-garden.aspx

Enjoy epic city views and gorgeous gardens at Queen Elizabeth Park
Just a three-minute drive from the botanical gardens is Queen Elizabeth Park, another gorgeous green space. It has a rock quarry garden and a rose garden, and I thought the floral displays were stunning. It has multiple levels, and the higher levels offer gorgeous views of the city and the mountains. There's ziplining if you are feeling adventurous, and Bloedel Conservatory has lots of birds and exotic plants and flowers. QE Park is free, but there's a fee for the Conservatory.
If you go:
Queen Elizabeth Park
4600 Cambie St.,
Vancouver, BC V5Y 2M9, Canada
http://vancouver.ca/parks-recreation-culture/queen-elizabeth-park-directions.aspx
So there you have it…my list of top ten things to do on your first visit to Vancouver! If you haven't visited, it's truly worth adding to your list.
What is your favorite city to explore? Comment below with recommendations!
Like this article? Pin it!